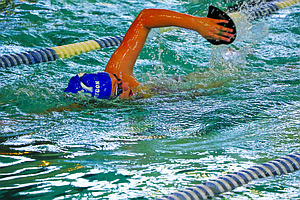 DALLAS — Isabel Diaz wasn't planning on becoming a swimmer.
Thanks in part to her older siblings, Diaz may be the latest in a line of talented swimmers in the Diaz family.
Five years ago, she was a soccer player, until her older brothers convinced her to try out a new sport.
"My brothers were on the swim team," Diaz said. "I decided I wanted to join and give it a try."
But her brothers also had a word of warning.
"They told me it was going to be really tough," Diaz said.
Now 13-years-old, she had her own ideas of what was going to give her the most trouble.

"I thought the breaststroke would be terrible," Diaz said. "It looked like it was more painful than the butterfly."
She soon realized that her initial impressions were far from correct.
"The butterfly is the worst stroke," Diaz said, smiling.
In the five years she joined the Blue Dolphins, Diaz is establishing herself as one of Dallas' up-and-coming swimmers. She swims a variety of events, including her favorite, the 500-yard freestyle, where she hopes to crack 6 minutes, 30 seconds.

Diaz may love having fun, but once practice begins, she's all business. She's one to support her teammates through thick and thin.
"(Isabel) is a great worker," Blue Dolphins coach Mark Maxwell said. "She is great with teammates and is showing leadership as she grows."
Diaz is also motivated by another factor — sibling rivalry.
"I'm trying to beat what they already did," Diaz said with a smile. "It makes things a little more fun."
The Blue Dolphins will have a chance to show how far they've come this Thursday through Saturday when qualified swimmers will compete in the 13 and over championships in Gresham.
But Diaz isn't worried about the competition she'll face.
"Just focusing on what I can do, and not what others are doing is important," Diaz said.
Diaz is the youngest in her family of swimmers, but her maturity and potential has Maxwell excited to see how much she can improve in the coming years.
"She is the kind of kid that the Dallas community should see and be proud of," Maxwell said.