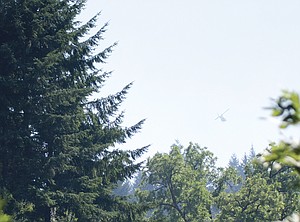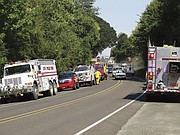 MONMOUTH — Smoke filled the air on Friday afternoon after a combine sparked a 250-acre field fire off Ohms Road near Fishback Road and Monmouth Highway.
Fire departments from 22 different agencies attacked the blaze on all sides. A helicopter unit with the Oregon Department of Forestry fought the fire from the sky.
Residents were under voluntary evacuation orders by the Polk County Sheriff's Office, with the recommendation to gather any animals and leave the area. An emergency shelter was set up at Central High School by the Red Cross in case it was needed. More than 250 firefighters tackled the fire. None were injured. No residents reported injuries, and no livestock was reported injured.
The call came in just after 2 p.m. on Friday, and the fire was under control about four and a half hours later, said April Welsh, Dallas Fire and EMS community services. In total, firefighters were on scene for about 10 hours to ensure no hot spots reignited.
"It was incredible how many apparatus showed up," Welsh said. "That kind of response just facilitated that fire getting under control, going from one point of not having containment to in an hour having 90 percent containment."
At one point, the fire began to spread to nearby timber, but was never considered a timber fire. A "finger fire" began spreading away from the main location toward the staging area on Monmouth Highway, where firefighters arrived for directions.
The fire was contained before it got that far, thanks to changes in wind and the diligence of the fire crews, Welsh said.
"The crews working so diligently and aggressively on that fire was just remarkable," she said.
Several agencies came from Yamhill, Marion and Benton counties. Units were on their way from Lincoln City and Linn County.
"We had called in for Washington County's strike force, but they may have been called off," Welsh said.
It wasn't just the sheer number of departments, vehicles and resources that responded to the fire, but how quickly they arrived, Welsh noted.
"It was really beneficial (to combating) this fire," she said.
Other factors that contributed to getting the field fire under control quickly included the weather conditions being cooler than they had been in previous weeks.
"The wind died down just enough to get a handle on it," Welsh added. "The wind was really working in our favor at that point. It had died down just enough to get a handle on it."
The response from the community — volunteers and family members — was equally amazing, Welsh said.
"They pulled together resources and food and water, and took it up to the crews that were working," she said. "It was an incredible display of support."
Welsh noted that she appreciated the patience and understanding of the community when Dallas Fire had to cancel Friday evening's Summerfest events.
"It was a difficult decision," she said. In fact, Welsh did not want to officially call off the water games until 5 p.m. "In the long run, it was the right thing to do."
Red Cross erects shelter at Central
INDEPENDENCE — When Dianne Mekkers arrived at Central High School, the would-be American Red Cross shelter during Friday's wildfire, she had an important announcement to make.
Mekkers, a site manager for the Red Cross, told everyone they could go home.
She had just heard from officials that the fire was out, and families who had been evacuated were able to return to their houses.
"We train, train and train," she said. "And we are really happy when we don't have to use it."
If not for the well-organized effort of firefighters and volunteers from throughout the region, Friday's 250-acre fire could have been a time when all the training and preparation was needed.
Seemingly able to set up an emergency shelter instantly, the Red Cross has a detailed "behind the scenes" process. Volunteers train, of course, but supplies are gathered and stored, and possible shelter sites are surveyed long before an emergency occurs, allowing the organization to move fast.
That process was tested Friday.
"This is a small event and we hope it stays that way." said Ann Fenderson, the shelter manager, during a walkthrough of Central.
She said in most emergencies, about 10 percent of affected people show up at a shelter. At that point, five homes had been evacuated and several more were on notice.
Central Principal Greg Mitchell said the school had been surveyed several months ago to be placed in a database of possible shelter locations. They had a "table top" plan in place in case the school was called upon.
"Use anything you need," he said.
Logistics coordinator Kate Redding was impressed, noting the school could shelter many more people than those who may have needed help Friday.
"This is like the Taj Mahal," she said. "We could probably put up all of Monmouth and Independence here if we needed to."
The Red Cross depends on agreements like it has with Central School District and the time and effort of local volunteers. Mekkers said the agency might be best known for its work on large-scale emergencies, but people don't have to travel far to lend a hand.
"They (volunteers) have a passion for this type of work and they are here to serve their community," Mekkers said. "We can always use folks … and they can do this in their own community."
That dedication was on display Friday.
Volunteers were notified through an emergency dispatch-like system at about 5 p.m. Shortly after 6 p.m., it wasn't fully set up yet, but still ready.
"If they need us, the doors are open," Fenderson said.
About 20 minutes later, Mekkers arrived to report: "They have knocked down the fire. We are breaking it down. Everybody can go home."
For more information: RedCross.org.