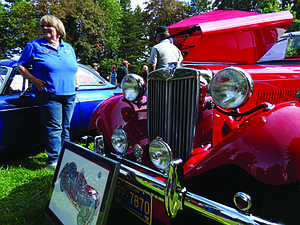 'Horse Owner's Workshop' Aug. 1
Old Mill Feed & Garden will host the 2015 Horse Owner's Workshop Saturday from 11 a.m. to 5 p.m.
Presentation topics will include caring for performance horses, feeding the equine athlete, myth busters panel and trail — showing and pleasure.
The event is free to attend. Pre-registration is required. Call 503-831-1222 for more information.
Lunch will be available for purchase from JT's Food Truck.
Neighbor's Night Out party planned
Salt Creek Neighborhood Association will host the seventh annual Neighbor's Night Out party on Tuesday. The event will be at Salt Creek Church private park at 15075 Salt Creek Road from 6:30 to 8:30 p.m.
Deputies from the Polk County Sheriff's Office will be on hand at the event, along with games and prizes. Guests are asked to bring finger food snack to share.  For more information: 503-623-9789.
Boondock's hosts painting workshop
The Boondocks in Falls City, 318 N. Main St., will hold an acrylic painting workshop the first Wednesday of each month from 6 to 9 p.m. Aug. 5's workshop will be held outdoors on the patio — there will be plenty of shade available.
Admission is $30 and includes a 16 x 20 canvas, professional instruction, paint, supplies and a cocktail. No art experience is necessary.
For more information: 503-787-2700.
Free retirement seminar on tap
AARP and the Oregon Division of Finance and Corporate Securities will hold a free public seminar on preparing for retirement on Tuesday from 9 a.m. to noon.
Topics of discussion will be: basic investing tools and how to choose a financial professional; protecting investments against scams and fraud; Social Security retirement, disability and survivor benefits; and Medicare facts and benefits information.
The seminar will be at Chemeketa Community College's Eola Viticulture Center, 215 Doaks Ferry Road, NW Salem.
Admission is free, but registration is required. Register by calling 877-926-8300 or at https://aarp.cvent.com/ORRetirement80415.
Two-McK Logging to hold reunion
Two-McK Logging will host a reunion on Saturday.
All former employees and subcontracted loggers or truckers are attend to invited.
The reunion will be from 2 to 6 p.m. and is a potluck, with food to be served at about 3 p.m.
For more information or to RSVP, see Two-McK Logging on Facebook or email B2mck@aol.com.
West Valley $6 fundraiser sale
West Valley Hospital Volunteer Services will host a Huge $6 Sale from 8 a.m. to 5 p.m. on Thursday and from 8 a.m. to 3 p.m. on Friday.
The sale will be in the main conference room, immediately inside the front door of the hospital, 525 SE Washington St., Dallas.
Items for sale include rings, watches, bracelets, scarves, sunglasses and purses.
Proceeds are used for the scholarship fund benefiting Polk County high school seniors wishing to pursue a medicine-related field.
Music, food at Monmouth block party
Christ's Church Methodist and Presbyterian United will host its second annual summer block party from 6 to 8 p.m. on Thursday at the church, on the corner of Cherry and Clay streets in Monmouth.
Activities are primarily for children, including crafts, a fire truck and bounce house.
Parents and children of all ages are invited. A free picnic will be served to the first 200 guests. Community agencies from around the county will provide games and activities for children, as well as information about their services.
A disc jockey from Only the Best will provide music. Guests may have their picture taken with novel props such as big glasses, beards and hair pieces.
For more information: 503-838-1724.
Dallas Booster accepts donations
The Dallas Booster Club is gearing up for its annual auction, which will be on Oct. 3 at the Col. James Nesmith Readiness Center in Dallas.
Tickets are $25.
The club is accepting donations for the auction.
For more information or to donate: 971-208-5855 and leave a message.
Mel Brown, friends perform free Sunday
Western Oregon University and the city of Monmouth will sponsor a free evening of jazz in Main Street Park at 5 p.m. on Sunday.
The concert features Mel Brown and Friends, with special guests.
The concert kicks off the Mel Brown Summer Jazz Workshop at WOU.