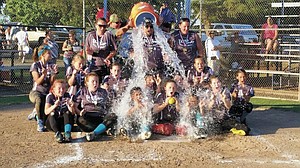 DALLAS — At the beginning of the season Micky Garus wasn't sure what he had gotten himself into volunteering to coach Kids Inc.'s Majors recreational softball team.
Most of last year's team had graduated into the next level — majors are mostly 10, 11, and 12 year olds — and some of the girls hadn't played a game of softball before. He called them the "newbies" or the "misfits."
It was a little like "Bad News Bears," but unlike the movie namesake, this team didn't need to find secret weapons to win. It had everything it needed from the beginning.
"I think they knew they were the underdogs at the beginning of the season," said Garus, who later coached the area's all-star team. "In my 15 years of coaching, I've never had a team work so hard. I'm very proud of them."
Coach of the Kids, Inc. Juniors team (12-14 year olds), Paula Van Elverdinghe, is just as impressed of how her post-season all-star team performed in the face of tragedy.
On July 11, team member Kora Logan's sister, Taylor, was taken to the hospital after an accident in a pool. She died July 13, while the team was playing in the state tournament.
Taylor, 15, was the team's "cheerleader in the stands," said player Anna Van Elverdinghe, so they decided to play on in memory of their friend.
"We were going to play our best for her because we know that is what she would have wanted," Anna said.
In Little League, all-star teams are selected by coaches from teams in their region. Dallas was well-represented on both the West Valley Little League Majors and Juniors all-star teams, which both won district titles and moved on to the state tournament.
Garus said it's been years since a Little League team — not to mention two — from this area has gone to state.
West Valley's Minors team (9-10 year olds) also performed well in the district tournament, taking second place.
Garus said while he had his doubts at first, it didn't take long before he knew the regular season was going to be special.
"It didn't take me more than a couple of weeks to see they were loving the game and were dedicated," Garus said. "We got better every day."
Team members attribute that to how quickly they that got to know and trust each other and teamwork.
"We all had our parts to do," said team member Abigail Sambuceto. "It was like we all had a perfect part to play."
Garus said Abigail exemplified that work ethic. She hadn't played softball before and struggled with hitting. He told her to practice at home.
She took that seriously, having her dad pitch to her until he "didn't want to throw the ball anymore."
Practice made perfect.
"She became one of my more reliable long ball hitters," he said.
And she was a member of the all-star team at the end of her first season.
"Next year, I'm going to do it better and practice more," she said.
Van Elverdinghe's regular season team from Dallas became a force to be reckoned with during the season, only losing one game and putting up impressive scores on opponents. The only team to defeat them was from Eugene, but Dallas took its revenge, posting wins in the other two meetings.
Those winning ways carried over into the post-season with the all-star team.
"The girls were on fire. They pitched well. Everyone was hitting well," Van Elverdinghe said.
The team took the district title by soundly defeating of a Albany-Eugene team.
"I think we all got along pretty good and we knew each other pretty good and that helped us a lot," Anna Van Elverdinghe said.
It helped them after Taylor Logan's accident, too.
"We got together to talk to the girls and they decided to play in Taylor's honor," Van Elverdinghe said. "I thought they handled the situation very well."
Team members wore bandanas to commemorate her at the state tournament and attended her funeral in their jerseys, chanting the same cheers she used to yell for them from the stands.
The teams weren't able to bring home state titles during tournaments earlier this month, but Garus and Van Elverdinghe think the success of these girls is a good sign for softball in Dallas.
"We had a great time and a great season," Van Elverdinghe said. I hope to see them all playing next year."
West Valley Little League
Majors team: Samantha Baldwin,Natalia Davis,Miah Friederick, Ana Garus, Hayley Johnson, Sonya Keller, Jocelyn McMillan, Amaryssa Mooney, Hunter Partain, Madison Rodriguez, Abigail Sambuceto, Shanoah Saunders, Kalie Schrock.
Coaching staff: Micky Garus, Shawna Davis Tamra Rober.
Juniors team: Rachael Ruman, Lily Comer, Mackenzie Broussard, Jessica Nolan, Taryn Hunt, Kyra Church, Anna Van Elverdinghe, Jenessa Parnell , Norma Hernandez, Delaney Headley, Kora Logan, Adrian Lee, Bailey Golden.
Coaching staff: Paula Van Elverdinghe, Nora Parnell, Allyson Mitchell.