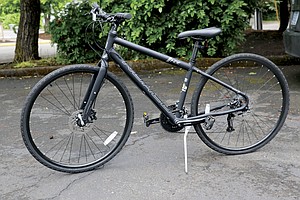 * This is the second of a series of columns chronicling my journey in training for my first sprint triathlon.
I'll be honest. I'm behind on my training.
Sure, I've run four miles and swam as much as 1,000 yards. But, as of last Thursday, there was one thing that I had yet to attempt — cycling.
The truth is, my bike had moved from my closet into my living room, but hadn't left my apartment.
A quick trip to Veal's Bikes Plus in Monmouth last week, however, and I was ready to go.
And so, this past Saturday, I went for a ride.
I'm not sure how far I went, but I was out for an hour and a half. Upon returning, the thought hit me. I needed to step up my training.
From now until about two weeks before the Second Annual Independence Sprint Triathlon on June 27, workouts should be ramped up.
"Ideally, you should now start running two to three miles a couple times a week and biking 10 to 15 miles a couple times a week as well," organizer Brian Joynt said. "Don't slack on the swimming though, because a difficult swim during the triathlon will hurt you later in the event."
That included stacking two of the three disciplines together into "bricks." So, despite having just gone for my first training ride, I decided to hit the road again, ride to the Dallas Aquatic Center, go for a swim, and then ride back.
Growing up, I rode my bike a lot. And, on TV, it always seems so easy. So, I took off like I was leading the Tour De France … or at least what I thought that would be like.
But, in all my eagerness to get going, there was one thing that I failed to take into account. Doing a double workout was already going to be more physically taxing than anything I had done before.
I would not recommend doing your first double workout after going for a training ride.
On the way to the Dallas Aquatic Center, the excitement I had soon faded. Instead, my legs felt like they weighed a thousand pounds. My bike felt like it had slowed to a crawl. The 1.6-mile route I took to the pool may as well have been a trek through a flat stage at the Tour De France.

Let's just say I haven't seriously ridden a bicycle in years … and it showed.
When I got to the pool, calling what I did swimming may be generous. It was more like semi-coordinated drowning avoidance. I struggled through 500 yards and stepped outside, ready to relax. Then I remembered — I still had to ride home. The smile I had disappeared. In its place was a far too common thought of wondering when my sanity had left me.
I did make it home, eventually, after conquering my trek. After which, I laid down to rest for a second and promptly fell asleep.
These double workouts should become a regular thing, Joynt said.
"Bricks are a good way to teach your legs to run after coming off the bike," Joynt said. "After you do your long bike rides, hop off and run one to two miles until your legs don't feel like jelly. It is not really necessary to incorporate swims in the bricks, but it wouldn't hurt your training."
Whoops. Well, lesson learned there.
But now is also the time to practice transitioning from one event to the next.
"Make a list of items you need for the swim to bike transition, as well as the bike to run transition," Joynt said. "Your list should include a towel, goggles, socks, shoes, running top, sunglasses and any nutrition you may need. Also (include) water bottles and a helmet for the bike. You also may want to include a pair of shorts to slip on over your swim shorts and bike gloves. Think of what you are going to bike and run in without fully changing clothes in between. Your time would be hurt drastically if you went into the locker room and changed clothes during the event."
With less than a month to go, I'm realizing just how close this sprint triathlon is.
I'm hoping I'm doing enough to finish. I'm no longer expecting my Chariots of Fire moment. Crossing the finish line — in any manner — would be a big plus, though. Now, if only I can conquer that bike.