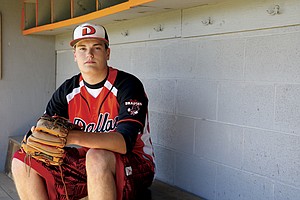 DALLAS — Dallas pitcher Logan Hatley's high school career didn't end the way he had hoped.
But his journey made him the Dragons' top starter for the second season in a row. Hatley went 6-2 on the pitcher's mound. He gave up just 10 earned runs for a 1.19 ERA, the lowest among the Dragons' starters. He also gave up just 38 hits, holding opponents to batting .182. Hatley also led Dallas with 102 strikeouts and was named the Mid-Willamette Conference's Pitcher of the Year for the second-straight season.
It's all these accomplishments that makes Hatley the Itemizer-Observer's Player of the Year for the 2015 season.
—
While Hatley's high school career may be finished, he's hoping this is just the beginning of something special.

From the moment he played T-ball, there was little question what sport was Hatley's favorite.
Yet, as he turned 10 and players began settling in positions, Hatley felt unhappy with his role.
"I remember talking to my dad and complaining about first base because they didn't touch the ball enough," Hatley said. "I wanted to try catching because they get to touch the ball every single time. My dad said I should be fine pitching, but I said I didn't pitch every single day. He told me major league pitchers don't pitch every single day. That's when I started to pay attention to some major league pitchers and what they're doing."
From that moment, Hatley, a leftie, became a student of the game, watching all he could, especially left-handed pitchers like Randy Johnson and Jamie Moyer.
While major league players have more power, Hatley learned valuable lessons that helped him grow.
"You see them walk around the mound, take deep breaths and calm down," Hatley said. "I knew I couldn't throw as hard as them or get as much movement as them, but if I could try and take what they were doing and use it when I was on the mound, I was excited to see what would happen."
As Hatley arrived at Dallas High, a successful first season playing on the freshman squad gave him hope for the future.
But it was after his first year of summer ball that he got a glimpse of the team's hopes for him.
"(Former player) Jarrett Peterson came up to me and said, 'are you ready for a state title?'" Hatley said. "I had never been on varsity and I said we can't win a state title playing junior varsity and we didn't win in summer ball. He told me I could be a starter on varsity and that the team was kind of expecting it."
Hatley lived up to those expectations, earning a spot in the varsity rotation as a sophomore. By his junior year, any doubts he may have had were long gone as he earned the Dragons' No. 1 spot in the pitching rotation and earned the MWC's Pitcher of the Year award.
"In the end, it's still just about putting the ball in the right spot and getting some movement on it," Hatley said.
Entering his senior year, Hatley had established himself as one of the league's best pitchers. His fast ball became perhaps his hardest pitch to hit.
"I throw a two seam fastball and it breaks a little at the end," Hatley said. "I always wondered why mine was so effective. I don't throw that much harder than other pitchers."
It wasn't until last fall that he would get an offer to continue playing beyond high school.
—
There was a time Hatley dreamt of playing for Oregon State and beyond right out of high school.
"My sophomore year, I had really high expectations," Hatley said. "You think everyone is going to play a sport in college. … I thought I would go to OSU or even get drafted."
Unfortunately, reality began to set in.
"My junior year, I start figuring some things out," Hatley said. "I realized I wasn't throwing hard enough to be on OSU's staff."
Throughout his junior year, Hatley had looked at a few lower-division schools, but entered his senior year without an idea of where he would end up after high school.
That changed during the fall when he began receiving interest from junior colleges. Chemeketa was first, followed by Linn-Benton.
"Five other (junior colleges) contacted me saying 'why didn't you talk to us sooner?'" Hatley said. "That's when I knew I was going to play somewhere. It was a relief."
Linn-Benton stood out amongst his choices.
"(Dallas) coach (Scot McDonald) told me how they closed down their program and they're starting it back up basically as a channel to OSU," Hatley said.
His opportunity to play at the collegiate level is a chance he'll be forever grateful for.
"When you're younger, you think everyone is going to play in college in something," Hatley said. "Then you realize it's not that common. I'm just happy that I haven't played my final game yet."
Hatley knows that any potential path to playing baseball professionally requires time and hard work. He's just hoping he gets the chance to keep playing the game he loves a little bit longer.
"I don't see myself as one of the top players of the country," Hatley said. "In other sports, the top players go to the top schools, then to the top of the draft. In baseball, you have more opportunities for players to get chances. That's all I want is a chance."