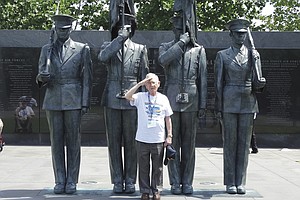 FALLS CITY — In Kay Dixon's experience, if you were to ask World War II veterans if they were heroes, they would say "no."
Dixon — whose father, Leonard Lonigan, is a World War II vet — respectfully disagrees, and she isn't alone.
Lonigan and Dixon returned last week from an emotional Honor Flight trip to see the World War II memorial in Washington, D.C. Honor Flight's mission is to take as many of the war's veterans as possible to see the memorial dedicated to their service.
"The goal of the program is to make these men feel like heroes. The truth of the matter is, none of them feel like heroes. They all, across the board, will say, we were just doing our job," Dixon said.
"They gave up their lives to go fight for our country — some of them truly gave up their lives — but they gave up their plans to go fight," Dixon added.
Lonigan, 93, who was the navigator on a B-24 bomber crew in 1944 and 1945, still insists he is not a hero.
"No way, the guys down on the ground (were)," he said.
Honor Flight of Oregon sees all the World War II vets it takes to the memorial in a different light, organizing dinners, airport welcomes, and police escorts while in Washington, D.C., to give them the credit they earned so many decades ago.
"It was just so fun to have them get that kind of treatment, from the police escort to the response of the people, overwhelming," Dixon said of the trip spanning May 28-31.
Once in D.C., the group of 26 vets and their guardians were taken to the World War II, Vietnam War, Korean War, Lincoln, U.S. Navy, Iwo Jima, and U.S. Air Force memorials. They also made stops Arlington National Cemetery to see the changing of the guard at the Tomb of the Unknown Soldier and Smithsonian's National Air and Space Museum.
All of those visits were crammed into two days, but Honor Flight made sure they were whisked from one location to another as quickly as possible.
"They gave us a police escort, so we just went from place to place with no trouble," Dixon said. "The sirens would go off and we went through red lights. … It was pretty exciting."
For the patriotic Lonigan, the trip was the fulfillment of a long-held wish.
"It was something I had looked forward to, but didn't know whether I would ever make it," he said.
He said among the highlights of the trip was seeing the World War II and Korean War memorials, and the changing of the guard at Arlington.
"There's no words to describe that," he said.
Dixon said she's heard father's stories about the war many times — particularly the time he and his crew had to bail out of their plane, the Lucky Penny, while on a bombing mission. They all survived the dramatic incident, except for the B-24, which crashed and exploded on impact.
She said going on the trip with her father allowed her to connect in a small way with his experience.
"To go and see him honored like this was a special thing to do together," she said.
Upon its return to Portland, the group was given one last hero's welcome at Portland International Airport. Even National Women's Soccer League team Portland Thorns took part, posing for photos with the guys after a return trip from a game.
"It was exhausting," Dixon said of the whirlwind trip, "but it was incredible."