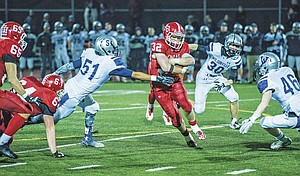 INDEPENDENCE — When one of Central High's newest graduates, running back/defensive back Wes Riddell, takes the field for the South squad at the Les Schwab Tires Bowl in Hillsboro on Saturday, he knows it'll be a challenge.
The all-star game for seniors in Class 6A and 5A features some of the best football players in the state of Oregon.
"I'm expecting quite a bit of good competition," Riddell said. "I get to go against some of the best players in Oregon. It's going to prepare me, and I'm just excited to have some fun with it."
Riddell is one of three Polk County players participating in the game, joining teammate Alberto Meza (offensive/defensive line) and Dallas' Spencer McCarron (tight end).
Panthers coach Shane Hedrick will serve as one of the assistant coaches for the South team.
"Having coach there and a teammate will help me feel more comfortable, and I think it will help me fit in better," Riddell said.
For Meza, Saturday provides the perfect end to his high school career.
"I'm really thankful to get one last opportunity to play one last high school football game," Meza said. "I'm very excited to play with some of the region's best players. I think it should be a really fun and neat experience."
But for Riddell, Saturday's all-star game isn't the end of the journey.
—
Riddell may have played baseball in the spring, but football has always been the sport on his mind the most.

"I've been missing football since it ended," Riddell said. "I've been doing workouts through baseball season to get ready for football. I've been preparing myself for a while now."
Riddell's taste of high school football came early, when he was the Panthers' ball boy during his sixth grade year. Since then, he's racked up numerous accolades, including being named the Itemizer-Observer's football player of the year for the 2014 season.
While Saturday marks the end of his high school career, Riddell's football journey appears far from over. This fall, Riddell will join the Oregon State Beavers.
"I always loved Oregon State," Riddell said. "It's almost in our backyard. My parents went to school there, which kind of swayed me a little bit. Talking to the coaches, they seem really cool, down-to-earth guys."
But Riddell had to take things into his own hands to get there.
The Beavers hired Gary Anderson, formerly head coach at Wisconsin, to take over the football program this fall. With the program busy adjusting to a new staff, Riddell reached out to OSU during the winter. Within a matter of weeks, Riddell had made up his mind.
"It really is cool to come in with a new coaching staff," Riddell said. "No one knows anyone, and it's time to make a name for yourself. They are all new. You're new. It's cool to come in and build with them."
The Panthers have seen several players compete at the Division I level in recent years. Grant Hedrick, a 2010 graduate, played quarterback at Boise State, while Riddell's cousin Jordan Pratt competed at Stanford.
"He didn't have much to say except that it's a whole new experience," Riddell said. "It's a major step up, and it's going to be a lot of work. Most of my schedule will revolve around football."
Riddell is confident that he's ready to face the step up in competition.
"The way (Central coach Shane Hedrick) ran practices, he ran it like a college practice," Riddell said. "He also made sure that academics came before sports and everything. He taught me work ethic and how to carry myself on and off the field. He helped me build great character through the years. I'm grateful for what he and my teammates have done."
—
Riddell has come a long way since the days he roamed the sidelines as a ball boy in sixth grade. Now, he's ready for the next chapter in his career.
"It's incredible," Riddell said. "Growing up, you always see the guys on TV, and I thought that it'd be awesome to be there someday. It's an awesome opportunity for me to get to play and be one of the guys I've been watching my whole life. I'm ecstatic just thinking about it."