Wednesday, March 18, 2015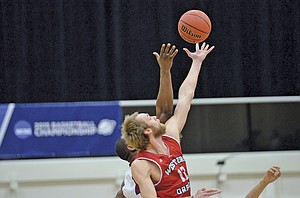 AZUSA, Calif. — The Western Oregon men's basketball team saw its historic season come to an end on Friday.
The Wolves lost to top-seeded Azusa Pacific 75-67 in the first round of the NCAA Division II West Regional.
WOU nearly pulled off a miracle comeback against the Cougars.
Trailing 65-52 with 2:29 left in the game, the Wolves connected on five-straight 3-pointers to pull within 71-67 with 26 seconds remaining.
Four Azusa Pacific free throws iced the victory, however.

Junior Andy Avgi scored 19 points to lead WOU, while Julian Nichols and Lewis Thomas added 14 and 10 points, respectively.
Western Oregon (23-7 overall) finished with its most wins since the 1982-83 campaign, when the Wolves went 26-6.

"First of all, I want to say that I'm extremely proud of our group as we have a group of kids that is a special unit and really has bought into everything that the team is about," WOU coach Brady Bergeson said. "I am extremely proud of them. They have helped us get to places that we have never been in school history before, and they have a lot to be proud of this year."
SULTESSA EARNS ALL-AMERICAN HONORS: Western Oregon junior Badane Sultessa earned All-American honors at the NCAA Division II Indoor Track and Field Championships on Saturday. Sultessa placed fourth in the men's 800-meter run final, finishing in 1 minute, 51.36 seconds. Junior Stephanie Stuckey finished ninth in the women's 1,600 final in 5:00.85. The WOU track and field team took home three individual titles at the Saint's Open hosted by Mt. Hood Community College Saturday in Gresham. Junior Zach Holloway won the men's steeple chase in 9:32.71, while junior Josh Hanna took first in the men's 800-meter run in 1:54.14. Junior Emmi Collier placed first in the women's shot put with a throw of 42 feet, 11¾ inches. WOU will compete at the Rose City Preview Saturday in Portland.
SOFTBALL SPLITS: The Western Oregon softball team split a pair of extra inning thrillers against Simon Fraser on Saturday. The Clan scored three runs in the top of the 10th inning to win the first game 5-3. The Wolves (10-12 overall, 5-1 Great Northwest Athletic Conference) won the second game 6-5 (eight innings) thanks to a walk-off single by pitcher Jourdan Williams. Sophomore Kelsie Garner went 5 for 10 with a double and four runs scored during the games. WOU's scheduled doubleheader against Central Washington on Sunday was postponed until April 2 at 2 p.m. The Wolves face the Wildcats in Ellensburg, Wash., for a doubleheader Sunday at noon.