Wednesday, March 18, 2015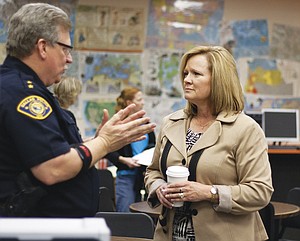 DALLAS — When Michelle Johnstone, Dallas School District's soon-to-be new superintendent, drove into Dallas for her interview earlier this month, it was love at first sight.
"I thought, this place feels like home," Johnstone recalled Friday of her introduction to town.
Johnstone, currently the superintendent of Brush School District in Brush, Colo., said that first impression was only confirmed when she was given a tour of all six of the district's schools and met with administrators and district office staff.
Mid-way through that long day of introductions and interviews, Dallas Mayor Brian Dalton took her on a tour of town — taking special care to hit spots related to her favorite hobby, horses. That further cemented her feeling that Dallas was going to be a good fit, she said.
Johnstone said after the tour March 5, she was impressed with the district's collaborative nature and focus on students.
"What a delight to be selected by such a great district," she said.
The feeling was mutual, as Dallas chose Johnstone out of 18 applicants to lead the district.
"What we set out to find was an instructional leader, and she is someone who has those credentials," Dallas District Board Chairman Mike Blanchard said. "Through the process, she was considered a very strong candidate. When she came (and met) with our staff, the focus on learning, we were impressed with that."
Now Johnstone and Dallas Interim Superintendent Dennis Engle are preparing her to hit the ground running on her first day, July 1. The two are in contact at least weekly, and Johnstone will be in town house hunting and attending a board meeting in the next few months.
She said she will be watching from Colorado the debate over school funding in 2015-17 in the Oregon state Legislature. Like many other school officials in Oregon, she has hopes of seeing lawmakers approve a budget larger than the $7.25 billion first proposed.
Once the 2015-16 school year begins next fall, Johnstone said she will spend as much time as possible in schools, meeting and talking to students, staff and parents.
Johnstone said she is ready to make Dallas her home, perhaps for a long time.
"It seems like a good place to retire in about 10 years," she said.