Wednesday, March 25, 2015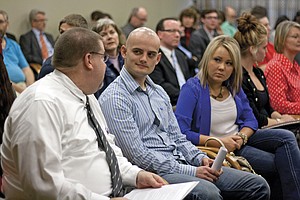 SALEM — More than 100 students, school administrators and parents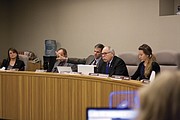 gathered at the state capitol Thursday to express concern over a bill that would kill fifth-year programs in high schools statewide.
Of those who testified at a public hearing on the proposed legislation — and there were many — the majority of them urged the Oregon Senate Education Committee to kill the bill instead.
Senate Bill 322 as amended Thursday would phase out what are called fifth-year programs operating in 26 school districts across the state, including ones in Dallas, Central and Falls City. The phase out would require school districts to decrease by half the number of students participating in programs starting next year.
Fifth-year — and sixth-year in Dallas' case — programs have students defer receiving a standard high school diploma in order to pursue an advanced diploma and attend classes at a community college. Because they are still a high school student, the State School Fund pays for the courses.
Among those urging the committee to give the bill a second thought was one current student of Dallas High's Extended Campus and a former student who used the opportunity to complete Chemeketa Community College's medical assistant program.
RaeAnna Shaffer, a 2012 graduate of Dallas High School, said she is the first in her family to earn a college degree, and Extended Campus made that accomplishment easier.
"It helped me cross that bridge and made it really understandable," she said.
Nick Bradford, the current Extended Campus student, told a similar story, saying Extended Campus has provided an education he otherwise didn't think was possible.
"I would like this program to keep going so that other people … can follow the path that I have followed," he said.
Brian Green, the Dallas High assistant principal who has overseen the program since it began in 2005-06, also testified Thursday.
He said the program provides a smooth transition to college and a higher retention rate than traditional avenues to college — about 80 percent.
"The impact of dismantling the fifth-year program would be devastating to Dallas High School. We would not be able to compete with our neighbors, West Salem and McMinnville, for the programs those students have because we just don't have them," Green said. "I would urge the committee to reconsider and to join us, those who have a proven program, so that we can work for a collective solution. I'm confident there is a better solution."
Green wasn't alone in asking for compromise. School officials and students from Albany, Lebanon, Corvallis, Scio and Gervais lined up to testify against the bill.
Bill proponents say the use of funding designated for K-12 education is "not financially sustainable" and "unethical."
Sen. Mark Hass (D-Beaverton), the bill's sponsor, said districts are using a loophole in Oregon statutes intended to pay for students to finish high school to offer the programs.
"If more districts take advantage of that loophole, the system will fail," Hass said.
Hilda Rosselli, the college and career readiness director for the Oregon Education Investment Board, said the program would cost the State School Fund at least $19 million over a two-year period with just the 26 districts currently participating, according to Oregon Department of Education figures.
"In short, many district leaders report liking what the fifth-year program does, but feel that it is unethical to use the State School Fund in ways it was not intended to be used," Rosselli said.
School officials took exception to the use of the word "unethical" to describe the programs.
Lebanon Superintendent Rob Hess said what the 26 district are offering students is legal and above board.
"If we are doing what is right for kids, it's not unethical," he said.