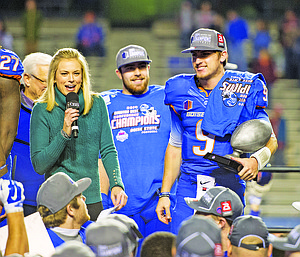 INDEPENDENCE — All Central High graduate Grant Hedrick wanted was a shot to prove himself.
Now, he has one.
Hedrick will join the Denver Broncos for a mini-camp tryout this weekend. Hedrick hopes to join former Boise State quarterback Kellen Moore, who is with the Detroit Lions.

"I'm am lucky and fortunate to have this opportunity with Denver," Hedrick said. "They contacted me right around our pro day on March 18. Their West Coast Scout ran our throwing session, and I've been in contact with them right up until the draft. Right around the seventh round, I figured out what was going on."
Hedrick, who led the Broncos to the Mountain West Conference title and a victory in the Fiesta Bowl during his senior season, hadn't considered a career in the NFL until recently.
"It's always a dream for any kid to play in the NFL one day," Hedrick said. "But then you see how difficult it is to get there. I was glad to play college football at Boise and get that opportunity. Then, I had some success and I realized that I might be able to do this a little while longer. Halfway through my senior season, I realized I may have a shot."
Hedrick led the nation in completion percentage (71 percent) during his senior campaign, when he threw for 3,696 yards and averaged 306.3 total yards per game.
If he passes his tryout, he could have the chance to learn from Peyton Manning.
"It's a good spot," Hedrick said. "You could learn from one of the best to ever play the game in Peyton Manning. John Elway is the (general manager) there. It's a great opportunity to compete. For me, that's all I wanted was a shot to go compete somewhere."
Whether Hedrick's tryout leads to a stint with the Broncos remains to be seen. But for Hedrick, just getting the chance to do what he loves makes the whole experience worth it.
"I'm glad to do this a little while longer," Hedrick said. "Who knows, it might last a week or two years. I just want to do this as long as I can and then, eventually I'll grow up and get a real job."