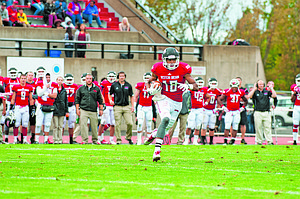 MONMOUTH — On Saturday morning, mere hours from learning his NFL fate, Western Oregon senior Tyrell Williams hit the field. Not a football field, however.
A golf course.
"Me and my dad and brother and cousin went golfing early in the morning," Williams said. "Then we just had a barbecue and hung out."
It was a decidedly low-key affair before a life-changing moment for the senior.
Williams signed a free agent rookie deal to join the San Diego Chargers that afternoon. A lifelong journey had been fulfilled.
"Ever since I was really small, my dream was to go to the NFL," Williams said.
It was when Williams was in fifth grade that it dawned on him – football was more than just a game to him. It was a way of life.
"I tore my ACL and I had to sit out for a year," Williams said. "It was unreal how much I missed playing, being in practices and games. Football was one of the main things that kept me going. I started really hoping football would be a big part of my life."
Growing up, Williams watched the likes of Michael Irvin and Deon Sanders. When he arrived at Western Oregon, he started making a name for himself.
"Going into my junior year, I talked with (San Diego's) scout," Williams said. "I've been talking to their receivers coach for a few years now."
That, coupled with an impressive performance at Oregon State's pro day, and Williams began turning heads on a national scale.
"It was pretty cool," Williams said. "I talked to teams and met head coaches and receiver coaches. It was a lot of fun going through it all."
As the draft approached, he went from a little-known Division II receiver to a potential late-round draft pick. And although he didn't get picked, Williams knew his dream of playing in the NFL was close.
"It was pretty surreal," Williams said. "It was kind of crazy. I chose them to be the team I wanted to go to. The receivers coach said they are excited for me to come out here. It's a weird feeling. It hasn't hit me yet. I don't think it truly will until I get the pads on."
Now, Williams is turning his attention toward securing a spot on the Chargers' final 53-man roster this summer. Williams will continue to work out at Western Oregon to stay in shape until he goes to San Diego for the rookie mini-camp.
"I know that they like big, fast receivers," Williams said. "They like the West Coast offense, which is good for my game."
Williams knows his journey to the final roster won't be easy.
But Williams took the first step in his NFL journey, one that he has been dreaming about for more than a decade.
And that opportunity, no matter what happens, is one that could be the culmination of a lifelong dream.
"To go out and potentially play in front of thousands of people, that would be awesome," Williams said. "Just to be in the NFL with its fans would be amazing."