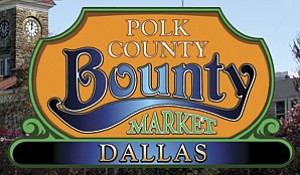 DALLAS — A new season of Dallas' Polk County Bounty Market will kick off Thursday with all the familiar faces and few new vendors joining the weekly fun.
Dallas' market will launch its sixth season on the lawn near the Academy Building, 182 SW Academy St., Dallas, and will be open 10 a.m. to 3 p.m.
In the midst of final preparations last week, market manager Bonnie Dreier said she's eager to see the market gang and shoppers reunited for another season.
"I'm mostly excited just to see us continue to grow, the support we get," Dreier said. "I'm excited to see the weekly customers."
New to the market this year will be food vendor The Boondocks from Falls City, serving burgers, Philly cheesesteak sandwiches and salads; new produce vendor Oneric from Dallas; and even a vendor selling homeopathic remedies. Dallas' Oak Villa Farm will also be returning for the season after an absence.
Market regulars Bermudez Family Farm, Good and Bready, El Pique and many more will be season-long vendors. Family Building Blocks and Monkey's with Tools will host children's activities, and Cash & Company will provide live entertainment the first and third Thursdays of the month.
Dreier said Thursday's market will feature something typically not seen until weeks into the season: berries. Unseasonably warm and sunny weather has early summer fruits and vegetables coming in sooner this year.
"We will start with berries and vegetables that we don't see until week three, four, five or even six," Dreier said. "We will have strawberries. It's exciting."
Also, thanks to Liberty Concrete, which donated the labor and materials, a permanent access ramp was installed at the market site just in time for the new season.
Dallas' market will not be holding extended hours one week each month, something tested last season. Dreier said while there were about a dozen loyal later shoppers last season, a noticeable drop in sales after 4 p.m. didn't justify continuing the later hours.
Supplemental Nutrition Assistance Program (SNAP) cards, as well as both debit and credit cards will be accepted at the market. Debit and credit cards can be used at the market information booth in exchange for tokens, which may be used in Dallas or at its sister market in Monmouth on Tuesdays.
A new season
What: Dallas Polk County Bounty Market.
When: Thursdays 10 a.m. to 3 p.m.
Where: The lawn next to the Academy Building, 182 SW Academy St.
Of note: Vendors can still apply to join the market and sponsors are still being sought.
For more information: bonnie@bountymarket.org. For updates on the market's weekly vendors and events, go to www.facebook.com
/bountymarket.