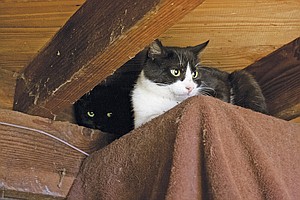 DALLAS — Thanks to a grant from Petco Foundation, the city of Dallas has launched a program to address the growing number of feral, or "free-roaming," cats who call the city home.
The $10,000 grant will pay for a "trap, neuter, and return" (TNR) program, with the goal of preventing growth in the feral cat population.
To put the money to use, however, the city needs feline friendly volunteers to help trap and care for free-roaming cats. Once captured, they will be taken to be spayed or neutered, given vaccinations, and returned to where they were picked up under the supervision of a caregiver who provides food and water. Kittens younger than 14-weeks-old and "socialized" adult cats will be put up for adoption.
"This was one of those issues we couldn't address," said Dallas Animal Control Officer Carleen Danka. "We just didn't have the manpower."
Danka said there are about 10 colonies of feral cats in the city that she knows of, but there could be more. While many of the cats captured through the program will be returned to the community, getting them spay or neutered and vaccinated will decrease the impact the colonies have on the surrounding area, Danka said. It will stop "breeding behaviors" and stop the spread of disease.
Danka said Salem Friends of Felines has already conducted a successful TNR program with a colony that used to roam in the area between Walmart and Burger King off East Ellendale Avenue. Now, the colony has been relocated by a caretaker who feeds them regularly. Since then, the colony has produced no new kittens.
"They are not bothering anyone and they are keeping the mice down," Danka said.
Dallas resident Edith Walters, who runs feral cat rescue Feral Cat Awareness Project, also is caring for a colony out of her home on Levens Street. She works with the Willamette Humane Society to have the cats spayed and neutered and with Salem Friends of Felines to place adoptable cats or those she has socialized. Walters also finds "barn homes" for cats who can't be someone's pet.
Walters helps with calls from all over the region — she takes 30 to 40 cats a month to be spayed or neutered — but doesn't have a shortage of cats roaming her property here in Dallas even after just a few months.
Danka is looking for more people like Walters to assist with the program. She has caregivers for about five colonies now, but needs more people to step up.
"We've got to make sure they have a food source or we can't release them," she said.
Danka said the goal is to help as many cats as possible, and she will continue the program at least through the summer or until the funding is used.
"I would like to get a few big colonies (taken care of)," she said.
Know of a colony of cats?
For more information or to volunteer to be a caretaker, call 503-831-3536.