Wednesday, November 4, 2015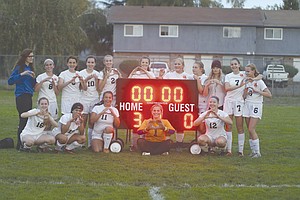 DALLAS — For the three seniors on Dallas' girls soccer team, their high school careers have been defined by change, from new coaches every season to dealing with injuries this fall.
After Thursday's play-in match, the seniors can add another legacy.
Dallas knew it couldn't let up, despite holding a 3-0 lead late in the second half against Springfield on Thursday.
That didn't stop players from knowing exactly how much time separated the Dragons from making history.
"I was watching the clock the whole time," junior goalkeeper Ashlee Lichtenberger said.
When time ran out, it became official — for the first time in school history, Dallas' girls soccer team was headed to the playoffs.
"It was probably the best moment that I've had ever playing soccer, honestly," senior captain Sarah Ussery said. "Just knowing that my team worked so hard in that game and allowed me to play at least one more match in my senior year."
The victory was made even sweeter playing in front of a home crowd in the play-in round.

"This is pretty special," Dragons coach Kirk Myrold said. "For the seniors especially, they have dedicated four years of their life, putting in hours and hours to practice and games. There's not a much better feeling than this."
The Dragons entered the play-in match aware of Dallas' lack of playoff appearances — and were dead set on changing that.
"We came in knowing that we were going to win, that we had to win," senior Brandi Wicks said. "This was something we really wanted and we showed that we wanted it."
Dallas took a 2-0 lead at halftime thanks to goals from Jennifer Webb and Stefani Tallon.
Webb added a second goal in the second half.
"It was awesome," senior Kelli Pedersen said. "I had chills. … It was nerve-wracking coming to the end. I feel like we all felt pretty confident, but you never know the end until the end."
Dallas now faces a difficult test in the first round of the state playoffs.
The Dragons play at second-seeded Wilsonville Wednesday (today). The Wildcats defeated Dallas 4-0 on Sept. 15 and finished the regular season with a 12-1-1 record overall.
"It's a known opponent," Myrold said. "With so much time between games, Wilsonville has improved and so have we. It's about trusting in the system we play and in our teammates. It's still a game of soccer. There's still two halves, one ball and 11 girls competing against another group of 11."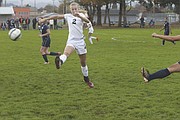 The Dragons enter the contest after winning their last two matches by a combined score of 6-1.
Dallas will be missing Tallon, who suffered a broken collarbone midway through the second half. Players are counting on the fact that they've rarely played at full strength this season due to injuries and illnesses as proof that they can find a way to win, despite the loss.
"She's a huge aspect of our team," Lichtenberger said. "It's going to be tough with losing a teammate. I feel like we have to come together. We've done it before."
For the seniors, Wednesday provides a chance to experience something no other girls soccer player has before at Dallas.
"We all know if we play like a family, we will win," Pedersen said. "The last few matches, we've been playing together. It helps everybody a lot and we're looking forward to (the playoffs) and hoping for the best."