Tuesday, November 10, 2015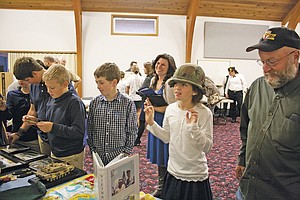 Indy leaf pickup on Monday
INDEPENDENCE — Independence will continue its residential leaf pickup program on Monday. Leaf piles must be placed on city streets prior to Monday for pickup.
Other dates are Nov. 23, Dec. 7, 14 and 28.
For more information: www.ci.independence.or.us.
Nonprofit leadership training Saturday
INDEPENDENCE — The Ford Institute for Community Building will sponsor a nonprofit board president and president-elect training from 9 a.m. to 4 p.m. on Saturday at the Independence Event Center, 555 S. Main St.
The keynote presentation will be by John Frohnmayer. Workshops will include helping your board understand its duties; understanding financial information; introduction to risk management; how good boards make great decisions; leadership team building; and long-range planning.
For more information: www.nonprofitsteward.org, or call 541-929-9320.
Monmouth seeks 'Engaged' volunteers
MONMOUTH — The city of Monmouth is looking for volunteers to serve on four committees working on projects identified through its visioning process, "Monmouth Engaged."
The four committees are: retail/restaurant, university/community connections, bicycle/pedestrian friendly town, and community gathering places.
Applications are due by Nov. 20. To apply, go online to www.ci.monmouth.or.us.
Applications accepted for Adopt-A-Family
DALLAS — Dallas Adopt-A-Family will be taking applications starting Monday at the Academy Building, 182 SW Academy St., suite 220 in Dallas.
Applications will be taken Monday through Nov. 20 from 4 to 6 p.m. and on Nov. 21 from 2 to 4 p.m.
A program of The Salvation Army Ray & Joan Kroc Corps Community Center Social Services, Adopt-A-Family provides food and children's gifts for local families in need.
Once families apply, churches, individuals and local organizations "adopt" them by providing a holiday meal and presents for each family member.
Last year, the event served more than 1,000 individuals, including 500 children.
This year, the campaign expects to serve more than 200 families, with 80 families already adopted.
More "adopters" are needed. Those wishing to adopt a family should contact Melissa Baurer by Dec. 5 at 503-798-4876 or by email at Melissa.Baurer@usw.salvationarmy.org.
For more information: 503-507-6269.
First leaf collection in Dallas begins
DALLAS — The first of two scheduled leaf pickups in Dallas will take place on Saturday and Sunday.
Republic Services will be collecting leaves left in the street. Residents wanting to have leaves collected this weekend should make sure to:
• Rake leaves in long rows parallel to the curb at least one foot away from the curb.
• Avoid blocking driveways, bike lanes and storm drains.
• Don't place leaves in the street until just before the collection is scheduled to begin.
Only leaves will be collected, no trimmings, brush, grass or other yard debris.
A second leaf sweep is scheduled for Dec. 19 and 20. Also, three leaf disposal locations are open until Dec. 31.
Residents can drop off leafs at: the parking lot adjacent to Lyle Softball Fields; Southwest Allgood Street near the gate to the parks office; and the east end of Hankel Street.
For more information, Republic Services at 541-754-0444.
Dallas approves change on 4-acre parcel
DALLAS — The Dallas City Council approved a zoning change on a 4.5-acre property in Southwest Dallas from industrial to residential.
The council held a public hearing on the change on Oct. 5, after which it approved having staff draft an ordinance to make the change official.
Owner, listed as Oakdale Heights Phase 1, sought the change to prepare the property for development under low-density residential. The property is located in Southwest Dallas at the end of Southwest Hayter Street.
Council members voted unanimously to approve the ordinance at a Nov. 2 meeting.
Sow winter garden with Master tips
DALLAS — Neil Bell, community horticulturalist for Marion and Polk counties will give a presentation on "plants for the winter garden" at the November chapter meeting of the Oregon State University Polk County Master Gardeners at 7 p.m. on Wednesday (today) at Trinity Lutheran Church, 320 SE Fir Villa Road, Dallas.
The public is invited to this free event. Bell established a new winter interest garden at the Inspiration Garden at Mountain Fir Park in Independence.
He has been collecting and growing these plants for some time, which show unique winter features such as blooms, colorful leaves, fragrance, evergreen and bark.
The Inspiration Garden is the OSU Polk County Master Gardener's demonstration garden. It is at 773 S. Seventh St., Independence. Parking is on F Street between Seventh and Ninth streets.
Hear about history at Polk Museum
RICKREALL — John Baker will present from his book in progress, Oregon, the World War II Story.
He will present at 1:30 p.m. on Saturday at the Polk County History Museum, 560 S. Pacific Highway W., Rickreall.
Baker's book-in-progress depicts Oregon as both a home front and a warfront. He will discuss how Oregon found itself in the front lines of the war and suffered the only wartime casualties on the mainland United States.
Light refreshments will be available.
For more information: 503-623-6251.