Wednesday, November 18, 2015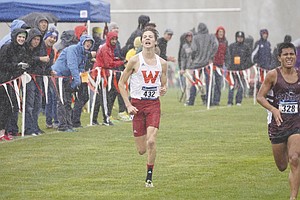 MONMOUTH — Western Oregon sophomore cross-country runner David Ribich wasn't about to let history repeat itself.
After failing to make the NCAA Championship Cross-country meet as a freshman, Ribich placed 11th at the NCAA Division II West Region, earning a place in the NCAA Championship on Saturday.
That race may signal the end of the 2015 season, but for Ribich, this is an opportunity to test himself against the best of the best — and give him a new mountain to climb.
"I'm just going to go out there and test the waters of what national competition feels like," Ribich said. "I'd like to find myself somewhere in the front. Top 40 would be ideal for all-American status, but I just want to have the best race I've ever had."
Ribich arrived at Western Oregon with high expectations as a freshman — qualify for the NCAA Championships.
He placed 51st overall at the NCAA Division II West Region race in 2014.
For many runners, that would be a finish to be proud of.
Ribich walked away more angry than happy with his performance and vowed never to experience what he felt again.
"That was a pretty low point for myself," Ribich said. "It really taught me how to lose, to know how I don't want to feel like."
After failing to meet his goal as a freshman, Ribich took a new approach to his offseason workouts during the summer.
The Enterprise native ran in higher elevation to help lung capacity, but it was a running camp that taught him new lessons about life and running.
"I was a counselor at a running camp in the Steins Mountains," Ribich said. "I learned what it meant to be an athlete rather than someone who just ran every race. I learned more of the lifestyle."
He excelled during the 2015 season.
Headed into the NCAA West Region, he knew he'd need to be at his best to advance.
"There was added pressure," Ribich said. "Hosting an NCAA event like this is a big deal. Coach Mike Johnson really did a good job for everybody to stay relaxed and focused and to believe in ourselves and in each other."
Once the race began, Ribich bolted out with the lead group, resulting in an 11th place finish.
There was little doubt he had qualified for nationals, but Ribich still took time to celebrate once he knew for sure. That celebration was short lived.
Instead, Ribich was ready to tackle his latest challenge and face off against some of the fastest runners from across the country.
"It was about five minutes of relief and cheering," Ribich said. "Right after that, I saw Johnson and he told me I deserve to be on cloud nine, but both of us expected me to qualify this year. You shouldn't be surprised when you reach your goals. Now, we have to get ready for when the real race starts."