Wednesday, November 18, 2015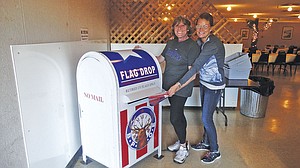 INDEPENDENCE — When an American flag is worn and aged, it shouldn't be tossed in the trash with the other household garbage.
"There's a proper way to retire them," said Vince Bordadora, trustee of the board of the Independence Elks Lodge. "The Boy Scout troop will do a small ceremony, and then they will be incinerated."
But how do you get your old flag to the Scouts so it may be put to rest with honor?
"Finding a place to regularly drop them (old flags) off is sometimes a challenge," said Kathy Martin-Willis, Elks Lodge member.
The Independence Elks, with help from other local businesses, have changed that.
A new flag drop off box was dedicated on Veteran's Day.
It will be in front of the Elks so people may leave their flags in a safe place until the Scouts perform the flag retirement ceremony, which is typically on Flag Day, June 14, Martin-Willis said.
"Unless of course we have 150 (flags) in December," she said. "The Scouts can do it any time."
The box will be locked so that old flags will remain secure until the ceremony, Martin-Willis said.
"The last Flag Day we had a dozen that we disposed of," Martin-Willis said. "We're hoping by having something out there, instead of inappropriately disposing of those (flags), people will do what they need to do and get them to us so we can dispose of them properly."
The Monmouth Post Office donated the old mailbox for the project, Bordadora said. White's Collision painted it and cleaned it up. Robert Lloyd's Sheet Metal put on a new hood and feet, and Mungo Signs decorated it.
"It looks really good," he said.
Providing the service is in line with the Elks' virtues, Bordadora said.
"The Elks have a real sense of patriotism and naturalism," he said.
The box will be installed in front of the Elks Lodge on Main Street in Independence.
For more information about the Independence Elks Lodge: www.elks.org/
lodges/home.cfm?LodgeNumber=1950.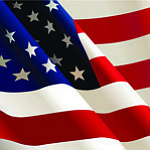 Retiring a flag
When the United States flag (Old Glory) becomes worn, torn, faded or badly soiled, it is time to replace it with a new flag, and the old flag should be "retired" with dignity and respect ... The traditional method of retirement is to incinerate the flag, but ... one should not simply drop the entire flag (intact) into a fire.
The Scouts maintain a vigil over the fire until all traces of the flag remnants are destroyed. Then, ... the ashes are buried.
Of note: Before accepting a flag for retirement, the recipient should obtain information about its history. Where has it flown? How long? Any memorable events happen at that site? This information should be used in the ceremony.
— Source: Boy Scout Handbook