Wednesday, November 25, 2015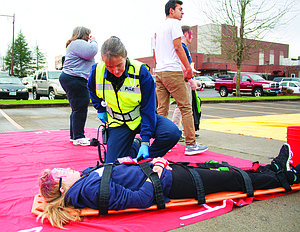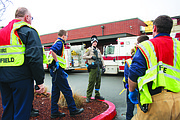 INDEPENDENCE — At 10:21 a.m., Tuesday the first calls for help came in.
A shooter is at Central High School. Shots were being fired in the women's restroom and main hall of the school.
Police cars from all local agencies converged on the school within minutes, officers leaping from their cars, armed with rifles.
They scrambled, looking for an open door to the school.
Inside is panic. Teachers are trying to keep students safe and out of the path of the shooter. Students and staff hide and barricade themselves. But some were too close and had to play dead to escape with their lives.
This was just a drill.
But the urgency, the simulated panic and injuries, the unpredictable behavior of students, and communication breakdowns with emergency responders were all realistic — and will teach emergency crews what to do if the real thing were to happen.
Independence Police Chief Bob Mason, part of the command group on the scene, said officers and paramedics arrived only knowing what had been dispatched to them. It stayed that way throughout the exercise.
About 45 minutes into the drill, he said it was going well.
"The shooter had been brought out and the injured are being brought out," he said. "Most of that is going well."
On the radios behind him, someone calls in that they have found a group of students in a barricaded room and they are trying to get them out.
"We haven't done a secondary sweep yet," he said. "I'm guessing in the secondary sweep they will find some who hid really well. The kids get into this."
Ethan Davis and Taylor Buccello were two student volunteers who participated. They were caught in the main hall and told by a teacher to hide under the benches. Neither thought that was a good idea because they were in the open and near the shooter, but obeyed anyway.
"We had to play dead instead of actually being able to hide," Bucello said.
Their friend had a gash on her leg and Buccello had to use her jacket as a tourniquet. They waited for police to escort them to safety, having to carry their friend to paramedics for treatment.
Buccello said if that had been a real scenario, they believe they would have been shot.
"I would have ended up dead if I did what I did," Davis said.
He probably wouldn't have listened to the teacher.
"I would have followed whatever my gut instinct told me to do," he said. "I probably would have been all the way to Salem by now."
But that was all part of the process.
What did they learn from the drill?
"To take care of the injured and go over my (first aid) more often," Davis said.