Wednesday, October 7, 2015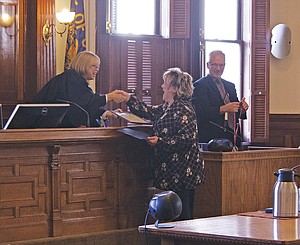 Create skeleton masks at art class
Ash Creek Arts Center will host Second Saturday Family Art Class from 2 to 4 p.m. on Saturday at its building, 311 S. Monmouth St., Independence.
The class will teach children and their families how to make spooky skeleton masks. Children should be old enough to manage scissors, glue, tape and other art supplies. All family art classes are free.
Registration is not required.
Diabetes class at Flaming Medical
A six-week workshop on practical skills for living with diabetes will begin Thursday at Flaming Medical Center, 1000 SE Uglow Ave., Dallas.
The class will be from 9 to 11:30 a.m. through Nov. 12.
Self-management skills taught include working with a health care team, managing symptoms and medications, problem solving, setting weekly goals, getting support from family and friends, and learning how to be active and eat well.
The workshop is designed to complement and enhance medical treatment. Class materials are provided at no charge for this free workshop.
To register or for more information: 503-587-5129.
Celebrate upcoming expansion of center
An open house from 5 to 7 p.m. on Thursday will be held at the Monmouth Senior Center to thank the community for its dedication to seeing the expansion project completed.
Because of fundraising efforts by the Friends of the Monmouth Senior Center, donations from the community, contributions from the city of Monmouth, and grants from the Collins Foundation, Oregon Community Fund, Meyer Memorial Trust and Ford Family Foundation, the senior center has raised enough money to be able to pay for the expansion.
Refreshments will be served.
For more information: 503-838-5678.
Apple festival at Brunk House
The Polk County Historical Society will host a pressing apple cider event at 10 a.m. to 3 p.m. on Saturday at the historic Brunk House, 5705 Salem-Dallas Highway NW (22W).
The event is free. Donations will be accepted. Fresh apple cider will be sold for $5 a gallon. Apple desserts will be sold. Tours of the home and Century Farm will be given.
For more information: 503-838-6603 or 503-623-6251.
Pink tea raises money for ACS
The Pink House, 242 D St., Independence, will host its seventh annual pink tea and silent auction from 7 to 9 p.m. on Monday.
The event raises awareness for the need for early detection of women's cancers.
Tickets are $10 each. Seating is limited to 50. Proceeds go to the American Cancer Society.
For more information, or to donate to the silent auction: Jolene Hall, 503-838-2851, or email pearlygirly52@gmail.com.
Do-si-do your partner at Guthrie
The Guthrie Park Community Center will host its second Saturday old-time square dance from 7 to 10 p.m. on Saturday at the center, 4320 Kings Valley Highway, Dallas.
Admission is $5 per person, $15 for a family of four or more. Children younger than 12 are free.
No experience is necessary to dance old-time squares, big circles, longway sets and waltzes. All dances are taught. Live music will be by Cash & Company. Sarah Headings will be the caller.
For more information: guthriepark@gmail.com.
Bambinos benefit is this Saturday
Bambinos will host its eighth annual silent auction and authentic Asian dinner fundraiser Saturday at 6 p.m., in support of the Bambinos ministry.
The auction and dinner event will be held at Eola Hills Wine Cellars in Rickreall, 501 South Pacific Highway (99W). The $20 ticket includes dinner and non-alcoholic beverages. No-host wine and beer available.
The mission of Bambinos is to serve families in need throughout the Dallas area by providing basic supplies and emotional and spiritual support.
For more information: Beth, 503-508-6043.
Find a creative side at Boondocks
The Boondocks will host painting workshops Wednesday (today) and Thursday from 7 to 9 p.m. at its location, 318 N. Main St., Falls City.
The workshops are $30 and include professional instruction, a cocktail and snack, a canvas and all the supplies needed to create a personal masterpiece.
For more information: 503-871-6527.
Register now for teen aviation event
Registration is due Thursday for the Teen Aviation Weekend, sponsored by Experimental Aviation Association Chapter 292, in Independence.
The weekend, which runs Oct. 17 and 18, is free for youths. The two-day workshop includes a brief look at aviation history, as well as what makes an airplane fly, navigation and weather, building airplanes, flying the simulator, careers in aerospace and a Young Eagles flight, weather permitting.
Participants are encouraged to bring a brown bag lunch each day.
For more information: Michael Ryer, 503-364-3619; David Ullman, 541-760-2338; Marcia Noell, 503-931-5127.
Breakfast Sunday at Buell Grange
Buell Grange will host breakfast from 8 to 11 a.m. on Sunday at the grange, 5970 Mill Creek Road, just off Highway 22 northwest of Dallas.
Pancakes, sausage and eggs; hash browns, sausage and eggs; or French toast and sausage are on the menu for $6. Coffee, juice or tea is included.
For more information: 503-623-8462 or 503-843-4703.