Wednesday, October 7, 2015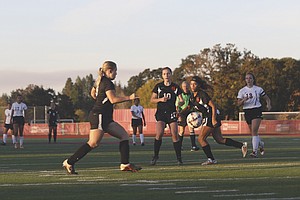 DALLAS — The Dallas girls soccer team opened Mid-Willamette Conference play with a 5-1 victory over Central on Monday.
"This was the first game in which we played a full match," Dallas coach Kirk Myrold said. "We were able to put it all together. Our defense held strong; our midfield was able to control and dictate the play; and our forwards were able to attack the goal."
Stefani Tallon (2), Emmalee Jones, Olivia Dalke and Ashlee Lichtenberger scored for the Dragons.
Dallas hosted Woodburn Tuesday after press time. The Dragons play at Crescent Valley on Tuesday (Oct. 13).
"We look forward to becoming more aggressive, to controlling the game from our midfield, to learning how to trust each other and really, just having fun playing on the field together," Myrold said.
VOLLEYBALL WINS TWO: Dallas earned a pair of league victories, defeating Woodburn 25-12, 25-19, 25-6 on Thursday and Central 16-25, 25-22, 26-24, 25-20 on Monday. The Dragons (9-6 overall, 5-4 MWC) play at South Albany Wednesday (today) and will participate in the Glencoe Tournament on Saturday before hosting Corvallis on Tuesday. Dallas entered today's match in fourth place in the league standings, one game behind Corvallis and Silverton.
BOYS SOCCER EARNS TIE: The Dallas boys soccer squad closed out its nonleague season with a 1-1 tie with Scappoose on Sept. 30. The Dragons opened league play with a 4-0 loss to Central on Monday. Dallas played Woodburn Tuesday after press time and will host Crescent Valley Tuesday at 4 p.m.
FOOTBALL FALLS: The Dallas football squad dropped to 1-4 overall after losing to South Albany 27-12 on Friday.
Tanner Earhart scored on a 2-yard run in the second quarter to pull the Dragons within 7-6 at the half, but the Rebels scored 20 unanswered points to pull away.
The Dragons gained 299 yards of total offense, but had 10 penalties for 99 yards and two turnovers.
"It was excruciating, it really was," Dallas coach Tracy Jackson said. "Our kids, they're good kids and they're working hard. We're making mistakes that are costing us. I guess that's on me and not teaching them well enough."
The Dragons play at Corvallis on Thursday.
CROSS-COUNTRY TAKES 18TH: The Dallas boys cross-country team placed 18th at the Harrier Classic at Albany on Saturday. Senior Jesse Stuhr placed 67th overall (17 minutes, 44.76 seconds), while senior Cody Tilgner took 77th (17:52.0) to lead the Dragons. Dallas will compete at the George Fox Cross-country Classic on Saturday and host a meet at Dallas City Park on Wednesday (Oct. 14).