Wednesday, October 14, 2015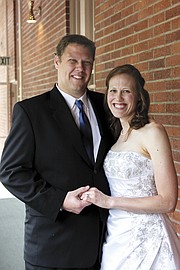 Villwock — Bringhurst
Kim Villwock of Dallas and Jody Bringhurst of Tigard Dallas were married Aug. 29 at Salt Creek Baptist Church in Dallas.
Reverend David Curtis officiated the ceremony.
The bride is the daughter of Paul and Sandi Villwock of Dallas. The groom is the son of Larry and Susie Bringhurst of Tigard.
Matron of honor was Heidi Knapp. Bridesmaids were Sheila Havig, Berina Tuttle and Paige Villwock. Liviana Tuttle.
Best man was Daniel Bringhurst. Groomsmen were Mark Villwock and Corban Villwock.
Kim Villwock is a 1998 graduate of Dallas High School. A 2002 graduate of Corban University in Salem with a Bachelor of science degree in elementary education and in 2011 she graduated from Western Oregon University with a Master's of science in education. She had taught in the Dallas School District for 8 years.
Jody is a 2001 graduate of Southwest Christian School in Tigard. A 2006 graduate from Azusa Pacific University in Azusa, Calif., with a Bachelors of Arts in theology and in 2012 he graduated from University of Oklahoma with a Bachelor of Science in engineering physics. He is a systems engineer at Raytheon Missile Systems in Tucson, Ariz.
The couple will honeymoon on the Oregon Coast. They will make their home in Tucson.