Wednesday, October 21, 2015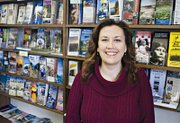 MONMOUTH/INDEPENDENCE — Take an afternoon and tour businesses in Monmouth and Independence on Saturday from noon to 5.
Explore what local establishments have to offer, at the same time, learn about and taste some local wines, all while helping raise money for the Monmouth-Independence Chamber of Commerce.
"It is a passport style event, where people will purchase tickets online or buy them the day of, tour businesses and organizations to showcase Monmouth and Independence," said Jean Love, executive director of the chamber.
Participating businesses will offer a free giveaway or discount on items purchased.
"Other area businesses will be guest booths at the sites, so if you don't have a brick and mortar place, you can participate," Love said.
People may pick up a passport at a starter site in either city. Tickets cost $20 in advance or $25 at the door. From there, they take a self-guided tour of each site, receiving a stamp as they go. At the end of the tour, participants may enter their passports into a raffle.
A shuttle will pick up and drop off visitors at the two main city parks: Riverview Park in Independence and Main Street Park in Monmouth.
"A couple years ago we did the crawl, which highlighted mainly restaurants," Love said. "We wanted to be able to showcase more than just restaurants."
So far, a Polk County winery is inside nearly every participating business. Wineries will offer free tasting of their vintages for sale.
Love said she hopes the event will raise money for the chamber's programs and services, but also really open some doors into what Monmouth and Independence have to offer.
"When you talk to someone who comes into Monmouth and Independence for the first time, they say how cute and quaint it is," she said. "Well, we want to showcase that."
Discover MI Town
Where: Monmouth and Independence, downtown areas.
When: Noon to 5 p.m. on Saturday.
Admission: General: $20 in advance, $25 at the door; Western Oregon University students: $10 in advance, $15 at the door.
Of note: Each participating business will have a giveaway or discount. Four local wineries will provide wine tastings and information about their wines inside other businesses. A shuttle will provide transportation between the two cities.
For more information: www.micc-or.org.