Wednesday, October 28, 2015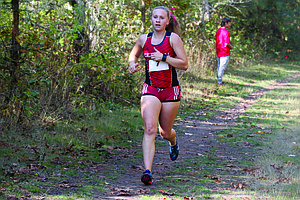 CORVALLIS — For the third year in a row, Central's Abby McBeth is headed to the state cross-country meet, and the junior has a new perspective on the experience.
"Honestly, for me it's such a blessing," McBeth said.
McBeth and sophomore Bailie Hartford earned spots at state by finishing in the top seven. Hartford took third in 19 minutes, 25.19 seconds, while McBeth placed fifth in 20:13.68.
McBeth's time wasn't as fast as she hoped, but she's thankful to be headed to state after where she's been.
"It's taken so much for me to get where I am," McBeth said. "I'm excited for a breakthrough track season because I'm not even close to where I want to be in-shape-wise."
McBeth's path to the state meet has been her most difficult yet. Health issues from over training last year caused her doctors to require a mandatory three-month break from running.
"I've never taken that much time off since middle school," McBeth said.
She entered this season completely healthy, but after missing crucial months of offseason workouts.
"Everyone's on three months of training and, day one, I'm just starting out," McBeth said. "It was discouraging. It still is sometimes. I try to stay as positive as I can."
This season has been as much about trying to get back into running shape as it has thinking about state, McBeth said.
"We knew that there was a lot of catching up to do compared to where she has been in the past," Central coach Eli Cirino said. "She was very patient and did not try to push too hard too early."
Entering Oct. 21's race, McBeth and Hartford knew it'd be a challenge to book a return trip to state.
"We're both a little tore up, I'm not going to lie," McBeth said. "We both came in knowing we'd have to give it our all if we wanted to be where we wanted and not be too disappointed with our times."
The runners took opposite approaches. Hartford went out with the lead pack.
"I knew who I wanted to run with," she said. "At the beginning, I put myself up with them and tried to keep their pace."
McBeth tried a different strategy.
"I tried to start out a little slow and started with the (main) pack," McBeth said. "Then, I knew I had to break out of it. It was easy to know who was in front of me and who was behind me."
Both runners executed their strategies to perfection, Cirino said.
"I felt like both Bailie and Abby ran very intelligent races," Cirino said. "The goal was to run a controlled race and to qualify. We knew if they ran within themselves, they would be right where they wanted."
As McBeth and Hartford prepare for the state meet on Saturday, they aren't worried about how they'll finish. Instead, they're ready to soak in the moment.
"I go to state for the experience," Hartford said. "It's fun to see all these girls who have the same passion as you and are just as passionate about it as you."
Cirino said he hopes that experience is something they'll enjoy for a long time.
"My hope for them both is to focus on running their best and to have a great and memorable experience," Cirino said. "They are competitors and will be ready to race. I hope that they are relaxed enough to appreciate what they have accomplished as runners and to soak it in for more than 20 minutes."
For McBeth, qualifying for state is nothing new, but this year, it means more than it ever has.
"Of all the years, this year is probably the most special to me," McBeth said. "I just want to have fun (at state)."