Wednesday, October 28, 2015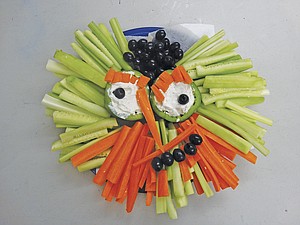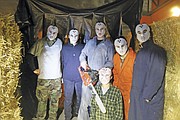 POLK COUNTY — It's that time of year again, when ghosts and goblins, zombies and witches merge on the streets with princesses and super heroes. It's Halloween Saturday, and the community is kicking things off on Friday throughout the valley.
We gathered all the Halloween activities — mostly not paranormal ones — we could find for your spooky enjoyment.
Every year since 1995, community members have partnered with Monmouth and Independence police officers and Polk County Fire District No. 1 to ensure the safety of children as they trick-or-treat in neighborhoods in Monmouth and Independence. This year's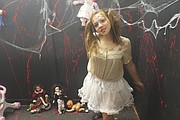 Monmouth safety zones are at the intersections of Park Place and Rainer, and Sacre Lane and Church Street, as well as at Main Street Park in Monmouth.
In Independence, safety zones are at Farnstrom's Mortuary, Ash Creek Mobile Park, the 600 block of Hyacinth Street, and the intersections of South Seventh Street and Cedar Court, and South Eighth Street and Maple Drive. Police officers and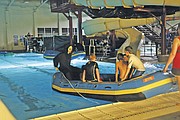 firefighters will visit safety zones, where volunteers will be clearly visible and on the lookout for mischief makers. Officers and firefighters will bring treats and visit with neighbors and trick-or-treaters.
Also, parents may set out a teal-colored pumpkin to let others know that there are treats other than candy for those who may restrictive dietary needs.
Whether in a designated safety zone or not, remember to look out for little ones and their families throughout the night.
Enjoy all the parties the community has to offer, take a tour through the Haunted Caves, presented by Central FFA, and don't forget to trick-or-treat in your local neighborhood. It may be the only interaction some neighbors get with each other.
HALLOWEEN HAPPENINGS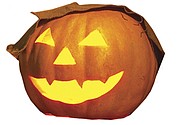 *Halloween spectacular
The Independence and Monmouth public libraries will host a Halloween Spectacular event from 3:30 to 6 p.m. on Friday.
Children may come to the library to decorate a Halloween bag, and then go downtown in both cities to visit local businesses for trick-or-treat fun, beginning at 4.
In Monmouth, trick-or-treat bags also may be picked up at Petals & Vines, 410 Main St. E.
The program is sponsored by the Independence Downtown Association, Monmouth Business Association, and both the friends of the Independence and Monmouth public libraries.
*Morrison Trick-N-Treat is Friday
Get out your costumes and get ready for a Dallas Halloween tradition Friday at Morrison Alternative Campus, 1251 Main St., Dallas.
The free and indoor event features costume contests, prizes and treats. Trick-N-Treat takes place from 3 to 6 p.m. and is open to children up to 12 years old.
The event is hosted by Morrison and sponsored by the Dallas Area Chamber of Commerce and Visitor's Center.
For more information: 503-623-2564.
*Spooktacular Bingo
The Monmouth-Independence Chamber of Commerce will host its second annual Spooktacular Bingo from 4 to 7 p.m. on Friday at Volunteer Hall, 144 Warren St. S., Monmouth.
Bingo cards are $1 each, or 12 for $10.
The event is open to the whole family.
Prizes will be available. Costumes are encouraged.
For more information: micc-or.org.
*Hallo-Wine at Left Coast Cellars
Wednesday (today) through Sunday from noon to 5 p.m., Left Coast Cellars will host Hallo-Wine, trick-or-treat for adults and kids alike.
Come see a giant pumpkin and experience wine and Halloween candy pairings. Wine tasting fee is $10. The café will be open on Saturday and Sunday.
The winery is at 4225 N. Pacific Highway (99W), Rickreall.
For more information: www.leftcoastcellars.com.
*'Howl @ the Moon' Party at Pressed
Ready for a "scaryoke" contest? That is just part of the fun at Pressed Coffee & Wine Bar's "Howl @ the Moon" party on Halloween night.
The Dallas bar, 788 Main St., will celebrate the occasion with karaoke renditions of scary songs, a costume contest, "monsters' bash" late night karaoke dance party, spooky giveaways, creepy drinks and Scooby snacks.
Those younger than 21 are welcome until 7 p.m. The party will continue until 2 a.m. for those 21 and older.
For more information: 503-751-1666.
*Wagner to host special program
Wagner Community Library, 11 N. Main St. in Falls City is holding a Halloween-theme last Saturday program for children from noon to 2 p.m.
This month's program will be led by Sandra Parks, an intervention specialist with a special education endorsement. Children may dress in costume and hear scary stories, make masks and build their own treat.
*Charter school to host Harvest Carnival
Kings Valley Charter School's Parent-Teacher Organization will host a free family-friendly carnival with games, prizes, trunk-or-treating, a selfie booth and cake walk. The harvest carnival is from 6 to 8 p.m. on Friday at the school, 33840 Kings Valley Highway, Philomath.

Costumes are optional. Donations and volunteers are still needed. Contact Cindy Simmons csimmons@kvschool.org or Alicia Warren at pto@kvschool.org to volunteer.
For more information or to volunteer: 541-929-2134.
*Faith Evangelical to hold Trunk or Treat
Faith Evangelical Free Church, 2290 E. Ellendale Ave., Dallas will host Trunk or Treat on Saturday from 6 to 8 p.m.
The free event includes "trunks" with games and candy, a caricature artist, face painting, a photo booth, free dinner, hot cider, hot chocolate, popcorn and cotton candy. All are welcome.
For more information: 503-623-8034.
*Community Carnival at VLC
Valley Life Center in Dallas will hold its annual Community Carnival on Halloween from 6 to 8 p.m. at the church, 1275 SE Miller Ave.

The event is for children in grades 5 and under. Features inflatables, pony rides, hay rides, games and candy. Admission is free.
For more information: 503-623-4116.
*DRV to host trick-or-treat
Friends and family of residents and staff at Dallas Retirement Village may bring your costumed children to trick-or-treat with residents from 6 to 7:15 p.m. on Saturday.
Little ghouls and goblins may come to any of the three lobbies on campus: health care, assisted and independent living. Each will have residents eagerly awaiting them.
DRV is at 340 NW Brentwood Ave., Dallas.
*Halloween Fest at Trinity Lutheran
Trinity Lutheran Church invites all to its Halloween Fest from 6 to 8 p.m. on Saturday.
The event is free and open to the community.
Lots of candy, prizes, a cupcake walk, bounce house and games will be available.
The church is at 320 SE Fir Villa Road, Dallas.
*Dallas FFA to host Halloween food drive
The Dallas FFA Chapter will hold a Halloween Food Drive on Saturday.
FFA members will also be going door-to-door on Halloween asking for donations. People can leave food outside for pickup.
In association with Les Schwab Tire Center, food donations may be made at any Les Schwab Tire Center or FFA Chapter. Food will be donated to the Oregon Food Bank.
The food drive is part of a statewide hunger initiative during the month of October by the Oregon FFA and Les Schwab stores.
For more information: www.oregonffa.com or www.ffa.org.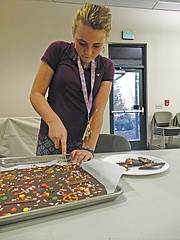 Monster treats for a spooky-good time
Halloween doesn't have to be all about the candy — though of course plenty of sweets will be available. Here are some ideas from the Independence Public Library's Teen Cooking Club to complement your spooky fare and keep you snacking on (somewhat) healthy tidbits:
Bloody Bites: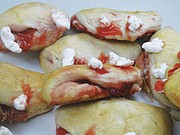 Ingredients: Pillsbury biscuits in the pop open can, cherry pie filling, marshmallows.
Directions: Flatten out biscuits on a cookie sheet. Fill each with a spoonful of cherry pie filling. Fold over on itself. Bake according to directions. Add a bit more cherry pie filling for that bloody effect. Stick on marshmallows for eyes or teeth.
Monster Veggie Plate:
Ingredients: Celery, carrots, cucumbers, bell pepper, olives, ranch dressing (or other veggie dip).
Directions: Chop celery, carrots and cucumbers into sticks. Arrange on the plate to make monster's hair, eyebrows and mouth. Slice bell pepper in half; clean out insides. Fill bell pepper with veggie dip or ranch dressing. Place on plate for monster's eyes. Use olives to garnish.
Monster chocolate bark:
Ingredients: Milk chocolate chips, dark chocolate chips, miscellaneous candies.
Directions: Melt chips together in microwave or double boiler (careful not to overcook in microwave!). Spread on wax paper on a cookie sheet. Sprinkle with miscellaneous candies and refrigerate until firm.