Wednesday, September 16, 2015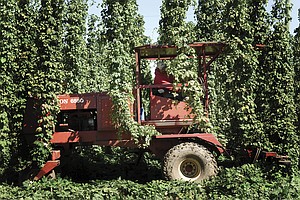 INDEPENDENCE — If there's one thing farm expert Cheryl Gilson has learned during her more than A decade with Rogue Farms it's this — be prepared for anything.
From protecting crops from cold temperatures in the winter to dealing with unforeseen issues — like last November when slugs ate 10 acres of rye seeds in 24 hours — Rogue Farms sees its share of new issues every day.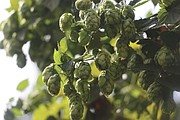 "You have to stay on your toes when you're working with Mother Nature," Gilson said. "You have to be ready for anything and you just have to roll with the punches."
Facing an unseasonably warm spring and summer, Rogue began its hop harvest on Aug. 17, roughly a week to a week-and-a-half earlier than normal.
Rogue Farm expects this year's harvest to run at least another week to finish reaping the last of seven varieties of hops.
An early harvest won't mean a weak hop yield. In fact, this is shaping up to be one of the farm's biggest harvest seasons yet, Gilson said.
"We're guessing about 80,000 pounds of hops from our 42 acres," Gilson said. "You really don't know until it all happens, but we're expecting a really good yield this year."
With the first hops ripening ahead of schedule, it meant being ready to start harvesting on short notice no matter what had to be done to get ready.
"Our crops haven't suffered," Gilson said. "Like so many crops, they were ready early. We decided the Friday before our harvest began to start the following Monday. We had to make some last-second repairs on vehicles, but we just had to get going."
The process from bine to bale is a lengthy one. When hops begin to sprout, this year in mid-March, workers string the bines and teach the hops how to "climb" while they are growing.
Once hops are ripe, the harvest begins.
The journey starts as bines are cut and brought to the picker warehouse where they are stripped through a series of conveyer belts and screens.
From there, the cones are transported to the kiln where they are dried for six to eight hours until moisture falls below 10 percent.
Getting the moisture levels correct is important. A mistake puts the cones at risk for catching fire.
After drying, the hops are cooled when hydraulic balers compress the hops into 200-pound bales to be transported to Rogue Brewery in Newport.
In total, the process takes more than 24 hours to complete for each batch of hops. With more than 40 acres, this year's harvest is scheduled to last a little over a month through the middle of next week.
Rogue Farms' other crops — including corn, marionberry, jalapenos and pumpkins — have also faced accelerated ripening periods. The pumpkins in particular were ready to be harvested a month sooner than normal — in mid-August.
"That really surprised us," Gilson said.
The hop harvest may be nearing its conclusion, but the work on the farm won't stop then. During the winter months, barley is planted to help cover and protect the hop yards.
Yearly flooding covers the hop yards in water — a necessary event that helps the soil stay rich with nutrients — an important factor when dealing with dry summers like in 2015, Gilson said.
The path from hop to beer is one that can surprise visitors once they see the process first-hand.

"The responses I hear from people is they are shocked with how much work goes into it before it becomes beer," Gilson said. "They think of breweries and steel tanks and fermenters. When they see it all begins in the dirt and the work it takes, it's special."
Gilson said everyone will be ready for whatever the weather throws at them next.
"We're always ready to respond to whatever Mother Nature gives us," Gilson said.