Wednesday, September 23, 2015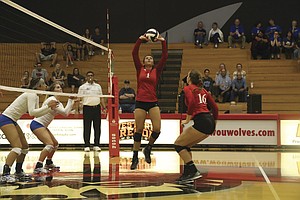 SEATTLE — Western Oregon sophomore David Ribich led the Wolves cross-country teams at the Sundodger Invitational on Saturday. Ribich placed 10th overall in the 8-kilometer race with a time of 24 minutes, 38.21 seconds.
Zach Holloway finished second for WOU, taking 28th with a time of 25:15.14 as the men placed fifth out of all NCAA Div. II teams competing in Seattle.
Nicole Maurmann led the women's team, taking 59th in the 6K race in 22:59.64.
Western Oregon will compete at the Willamette Invitational in Salem on Oct. 3.
WOU FOOTBALL FALLS TO WILDCATS: Central Washington scored 40 unanswered points en route to a 40-19 win over Western Oregon on Saturday. The Wolves took a 6-0 lead after redshirt sophomore Phillip Fenumiai scored on a 5-yard run, but the Wildcats scored the final 40 points of the first half, including 26 in the second quarter. Quarterback Trey Shimabukuro threw for 293 yards, a touchdown and an interception during the loss. WOU (1-2 overall, 0-1 Great Northwest Athletic Conference) plays at Portland State Saturday at 2:05 p.m.
WOLVES SOCCER DROPS CONFERENCE OPENER: The Western Oregon women's soccer team opened GNAC play with a 1-0 loss to Western Washington on Saturday. The Vikings' Emily Webster scored the game-winner in the 17th minute. WOU (4-2 overall, 0-1 GNAC). Senior Makana Pundyke had a pair of shots from within the 18-yard box during the second half, but could not convert. The Wolves travel for a pair of conference matchups against Montana State Billings on Thursday and Northwest Nazarene on Saturday.
VOLLEYBALL SPLITS WITH ALASKA SCHOOLS: Western Oregon's volleyball squad earned a split to open GNAC play. The Wolves lost to Alaska Anchorage 25-17, 22-25, 25-16, 25-18 on Thursday before defeating Alaska Fairbanks 25-22, 25-19, 25-19 on Saturday. Redshirt freshman Amanda Short led WOU with 14 kills against the Nanooks on Saturday, while Alisa Bettinson added 13. The Wolves (4-7 overall, 1-1 GNAC) plays at Saint Martin's on Thursday and at Seattle Pacific on Saturday.