Wednesday, September 30, 2015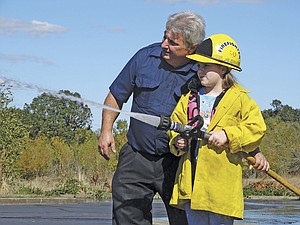 Help clean up Polk roads on Saturday
The Polk County Public Works Department will host an Adopt-A-Road cleanup day on Saturday. As many as 60 different groups that have adopted roads throughout the county will be participate.

Groups who are active members of the Adopt-A-Road program are asked to pick up their supplies the week before the event. Disposal bags and safety equipment will be provided at that time.
To become an active member of the program, applications are available on the Polk County website www.co.polk.or.us, or call 503-623-9287.
Felines fundraiser slated for Saturday
Salem Friends of Felines will host its 10th annual fundraising auction from 5 to 9 p.m. on Saturday at the Oregon State Fairgrounds, Cascade Hall, 2330 17th St. NE, Salem.
The event is for those aged 21 and older and costs $40. All proceeds benefit cats in the Marion and Polk county communities.
Hearty appetizers, beverages and live music by Little Hickory Band will accompany a silent auction.
Salem Friends of Felines is a nonprofit, no-kill cat rescue group helping both humans and felines in Marion and Polk counties.
Last year, more than 1,200 cats were placed into homes through the group's adoption program. In addition to trap, neuter and return programs, the group helps cat owners get access to low-cost spay or neutering services, as well as other medical needs for cats.
Tickets may be purchased online at www.sfof.org or at the thrift store/adoption center in Salem, 980 Commercial St. SE.
Flea market at Rickreall Grange
Rickreall Grange will host a Country Flea Market from 9 a.m. to 4 p.m. on Saturday and Sunday at the Grange Hall, 280 Main St. (99W), Rickreall.
A variety of vendors will offer a large assortment of items, both new and slightly used — including some collectibles. Breakfast and lunch will be available for purchase.
For more information: Blanche Pryor, 503-623-8289.
Exhibit merges photos and poetry
The Cannon Gallery of Art at Western Oregon University presents Black & White & Read, an ekphrastic exhibition featuring photographs of women and poems written in response to those photos.
The exhibit includes the varied work of 16 photographers and 15 poets.
It is on view at the gallery from Thursday through Oct. 30, with an opening reception from 4:30 to 6 p.m. Wednesday (today).
Many of the artists and poets will be at the free reception to answer questions and discuss their works.
The gallery is at Campbell Hall, 345 Monmouth Ave., Monmouth.
For more information: 503-838-8607.
Nominees sought for RFL honor
American Cancer Society Relay for Life of Polk County is seeking letters of bravery about women who have fought or are fighting the cancer battle. Three women will be honored at the "Total Woman" event on Feb. 26 and 27, 2016 hosted by Relay for Life of Polk County at The Majestic in Dallas.
The event will feature vendors, crafters and on-site massages, fashion show and informative presentations on cancer awareness and prevention.
Nominations letters can be sent to: Relay for Life of Polk County-Nominations, P.O. Box 631, Dallas, OR 97338.
Email questions to: 2015 relayforlifepc@gmail.com; subject: Nomination.
WVHA's hosts party for Jennings
Linda Jennings, West Valley Housing Authority's executive director, is retiring Wednesday (today) after 25 year at this agency.
WVHA will hold a retirement open house for Jennings Wednesday (today) at the agency's Dallas office, 204 SW Walnut St., from 2 to 4 p.m.
The public is welcome to come and give her their best wishes and to say good-bye.
She has been the executive director since 2005.
Learn more about preparedness
Monmouth Public Library will host an American Red Cross preparedness workshop at 11 a.m. on Saturday at the library, 168 Ecols St. S.
American Red Cross volunteers will present on disaster preparedness, covering disasters that can occur in our geographic area and the three essentials of being informed, making a plan and building a kit.
For more information: 503-838-1932.
Uganda choir to perform on Friday
The children's Ugandan choir Imani Milele, meaning "everlasting faith," will perform at 6:30 p.m. on Friday at First Christian Church, 1079 SE Jefferson St., in Dallas.
The choir will perform traditional African dance songs and drum routines.
The event is free, but donations will be accepted. The choir is touring to raise money to help other needy orphans and vulnerable children in Africa.
For more information: Joy Dull, 503-409-4292.
Benefit to help build Liberia library
A fundraiser at Dairy Queen in Monmouth will benefit Palmfield Christian School in Monrovia, Liberia, to help build a library.
From 5 to 8 p.m. on Monday, a portion of the sales will help the school buy bookcases and books.