Wednesday, September 30, 2015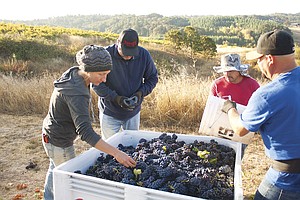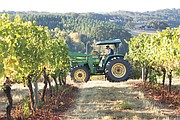 POLK COUNTY — The morning of the first day of fall, crisp and beautiful, set the perfect scene for wine grape harvesting at Namaste Vineyard outside of Dallas.
The calm morning was filled with the quick snip, snip, snip of clippers while workers deftly removing dark purple pinot noir grape clusters from the vines. The grapes harvested Sept. 23 will become the vineyard's "Prosperity pinot."
Owner Dave Masciorini was all smiles at the beginning of the earliest harvest on record at the vineyard.
"I will have everything off before October, except Riesling," he said, sitting abroad the tractor he uses to move full containers of grapes from Prosperity's hillside rows. "That's never happened before."
By that point in the harvest, Masciorini was more than pleased with the growing season's bounty. The hot and dry summer prevented common plagues of mildew and late-season pressure from birds seeking to make a meal out of sweet grapes.
The rain that's visited the valley off and on since late August was just enough to help slow down ripening and balance out the acids and flavors.
"When the rain started to come, if it would have gone steady, we would have had such an incredible year with this limp little finish," he said. "We probably wouldn't have been able to get it right."
Masciorini said 2015 and 2014 have been as good as it gets, even with record heat.
"If this were the new norm — I don't think it is — but that would be fantastic," he said. "If this were the new norm, I would be able to sleep at night."
Bryan Croft, winemaker with Firesteed Cellars Winery in Rickreall, said he, too, is pleased with what has come in so far since the vineyard's harvest that began Sept. 6.
Firesteed's harvest also is the earliest on record, thanks to an early bud break and bloom during the latter part of a mild winter. Combined with the heat of summer, Croft believes the 2015 wines will be very drinkable right away.
"I think 2015 will be one of those years that is going to make a really big slash in the (wine) magazines," Croft said. "It's more of the blockbuster than the indie film. You don't have to wait around."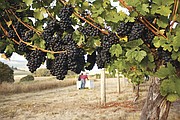 In contrast, cooler years create wines with more subtle flavors and more acid, he said. Those wines typically age well as flavors develop over time. This year's vintage will be the opposite.
"You know they are going to be delicious (now)," Croft said.
The season wasn't perfect, though.
A few stretches of extremely warm weather took a toll on the grapes, causing heat damage. Grapes suffering from heat damage shrivel up like raisins. Damaged grapes can go through fermentation, but give a bitter taste to wine.
Namaste was largely spared.
"Your fruit is really pristine, besides a little bit of heat damage," said Netanya Welch, the harvest crew leader from Amity-based Vitis Terra Vineyard Services, a vineyard management company.
She was helping at Namaste on Sept. 23. Welch picked through the harvested grapes, pulling leaves and tossing out clusters with too many raisin-like grapes.
"We've got a little bit, but nothing to cry over," Masciorini said.
Firesteed also had some slight sun damage, perhaps affecting 1 to 2 percent of the crop.
"It was the last round of days over 100 degrees," Croft said.
That's not true of every vineyard in 2015, though.
Welch said Vitis Terra works with 25 vineyards spread across the valley from Sherwood to Dallas to Dundee. She said some were experiencing more significant losses.
"That's a lot of money," she said. "It's damaging to your income."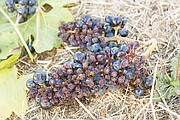 Welch said a number of factors determine whether grapes will suffer from the sun, including row orientation, soil quality, access to water and timing.
"The grapes are the most susceptible to stress when they reach … the beginning of veraison, that's wine speak for when they start to turn color," Welch said. "When they are first approaching veraison, when they are getting their first little bit of color, they are extremely susceptible to heat stress and sun damage, because this color is what protects them. It's like a tan."
Welch, who helped Namaste throughout the growing season, put the finishing touches on her work by vigilantly removing clusters with too much sun damage.
"I'm more picky than others," she said.
"With the flavors that we have on everything now, I would say it would be one of my best," Masciorini said, noting that may not be the case with all wineries. "The flavors in everything right now are just huge."
He will have to wait a year before getting a better idea what the true characteristics of the 2015 vintage will be, but for now, he's optimistic.
"I'm not worried, and I worry right up to day we pick," he said. "I couldn't be happier. It's a relief when it's coming off and it's nice."
Croft agreed.
"It will be a great year to be a wine drinker," he said. "If you see 2015 on the label, you can be confident you are going to like it."