In a blink of an eye, I went from zero to 42 years in a career I have loved, from news reporter to publisher of my hometown newspaper. I am just grasping the idea that I will not be walking through the office doors of the Polk County Itemizer-Observer on a daily basis, as this is the last issue that will carry my name as publisher. The Itemizer-Observer is a place I have called home and where my staff has supported me and each other like family. Where the communities of Dallas, Independence and Monmouth have invited my staff and I into their homes each week because they trust us and believe in newspapers.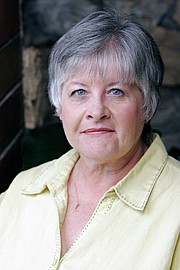 It is a responsibility I have taken seriously all of my career, from society editor to publisher. Have I made missteps and caused disappointment, yes, but never intentionally. Sadly there are those who will never believe that nor forgive me; I do understand. On the other hand, there have been many others who have been gracious and supportive, and have become some of my best friends and I-O newspaper supporters. A very emotional gift to receive.
This newspaper staff always worked to make sure the printed word is correct. We know that this is your hometown newspaper and work at having a level playing field for all. That is why we set parameters for letters and stories so everyone gets an equal chance to share their message. Although we are your strongest advocate in making sure there is freedom of speech — it is important to remember we are a business. There are bills to be paid so we can be in your home on a weekly basis.
It has been an honor and pleasure to have worked on more than 2,184 weekly issues including the Itemizer-Observer (29 years) and the Molalla Pioneer (13 years) plus numerous special sections, print projects and telephone directories. I have shared the life of our readership from birth to marriage, life milestones, anniversaries, to the final life statement in an obituary. I will miss having these special ties with my communities.
I have enjoyed being able to work on many boards of directors that include: Eagle Newspapers Inc.; Dallas and Monmouth-Independence chamber; president of the Dallas Area Chamber of Commerce (more than once); Monmouth and Independence YMCA; Western Oregon University committees; Dallas Area Visitors Center (past president); West Valley Hospital; Sable House; many committees and commissions including chairing the Dallas Economic Commission for many years; Dallas School Board committees; Polk County Relay for Life and others that have given me the opportunity to give back. These communities have opened their arms wide to me, and there are many who have the same heart in making these communities the best that they can be.
I continue to marvel at how giving we all are when it comes to making our neighbors, friends and newcomers feel safe, secure and wanted as part of our community. We all have the same passion of creating environments that are welcoming, prosperous and giving. This is what makes being part of this newspaper such a blessing. Everyone cares; and so it remains even more important that the Itemizer-Observer is at the school board meetings, the city council meetings, and the commissioners meeting. Being your eyes and ears and sharing with each of you what is going on. Your newspaper is the key to communicating. We are the watcher that keeps the meeting open for all, and that all business is done in public and not behind closed doors. We are fortunate that our schools, councils and commissioners are diligent about being transparent, but it is us who share their message.
A key part of why the Itemizer-Observer remains a viable part of the community is due to the ownership of Denny Smith and his family and Eagle Newspapers Inc. They are dedicated to community journalism. I owe a great deal to Denny and the board of directors who selected me in 1981 to serve as the first woman publisher in the company when I was named publisher at the Molalla Pioneer. Two former Itemizer-Observer publishers also helped me recognize the opportunities available and that I had the ability to be successful in this business. I had a strong mentor in Joe Blaha, who hired me in 1973 as society editor and encouraged me to learn the whole business from top to bottom, which I did. I also was fortunate to work with Dave Weston, who encouraged and supported me in accepting the publisher's position in Molalla, as he said he was only a phone call away.
My greatest thanks and appreciation goes to my staff, both past and especially to my current crew. These people are amazing and have hung with me and the wild ride here at the I-O. We have made adjustments in staff numbers and jobs, along with the sadness at losing longtime staff members to economic cuts. The Itemizer-Observer is also moving to a new style of business operation with a management team. The two-member team includes Emily Mentzer — she will serve as editor — and Heidi Leppin, who will continue as sales manager. They will be the dynamic duo who will lead their staff into the future of newspapers. This group of dedicated and loyal people are what has made the Itemizer-Observer a highly respected and award-winning newspaper across the state. They have made my job easy. They have let me be both silly and serious, and I am sure they have wondered how it is that I am authorized to sign their pay checks.
You will not find a finer group of dedicated people who believe in providing their communities and customers with the best service and newspaper in the state. They will need your support in the days and years to come. There will always be a need for our community newspapers. Communication and the freedom to do so is a powerful and important tool in how we, as communities, will succeed. The Itemizer-Observer staff does the research; we ask the questions; and we print the answers and the background and share it both in print and online.
Lastly I have been supported by my amazing family and friends through the highs and lows of these 42 years. The successes and the not-so-successes. I have enjoyed every minute of my work and the opportunities to share in making this a better place. I look forward to being able to do my part in remaining in service to these communities.
I look to what awaits me as one door closes and a new one opens. In the words of my father, Curt Lamb, who wrote a column for the Itemizer-Observer for 45 years, "I will see you 'round town."