Wednesday, April 20, 2016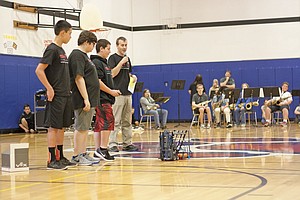 Legion offers free gun safety course
American Legion Post 20 will sponsor a free gun safety course on Friday at 6:30 p.m. The class will take place at American Outdoor, 468 NE Bovard, Dallas, and is open to the public. Gun ownership is not required to take part in the class.
There is no cost to attend. RSVP at 503-623-7056.
TAB to celebrate Earth Day Saturday
The Monmouth Tree Advisory Board will celebrate Earth Day on Saturday with a planting on the planter strip along Hoffman Road near 16th Street. The planting begins at 9 a.m. More than 250 trees and shrubs will be planted in a 900-foot long planter strip.
Volunteers should meet at the intersection of 16th Street and Hoffman Road. Parking is available in the adjacent neighborhood and at Ash Creek Elementary School.
Volunteers should bring shovels and rakes.

For more information: Mark Fancey, 503-751-0147.
MI April mixer set for this Thursday
The Monmouth-Independence Chamber of Commerce will host its April mixer at Washington Federal, 523 Main St. E., Monmouth Thursday from 5:30 to 7 p.m.
Light refreshments will be provided. To register or for more information: www.micc-or.org.
Earth Day open house on Friday
Dallas City Park will host an Earth Day open house Friday from 1 to 4 p.m. The open house will take place at the Delbert Hunter Arboretum and Botanic Garden, 631 SW Park St., Dallas.
Guided tours and refreshments will be available. Information about gardening, native plants and riparian areas will be presented.
For more information: Stacey Garrison, rcl@polkswcd.com.
Master Gardeners hosts celebration
The Polk County Master Gardeners will hold an Arbor Day/Earth Day celebration at Inspiration Garden in Mt. Fir Park, located in the 700 block of F Street in Independence.
The celebration will be held Saturday from 1 to 4 p.m. There is no cost to attend.
Planned activities include a tree planting demonstration and guided tours with Master Gardeners. There will also be a children's garden, butterfly garden, vegetable garden and more.
For more information: 503-623-8395.
KVCS garden work party on Saturday
Kings Valley Charter School will host a garden work party Saturday from 9:30 a.m. to 12:30 p.m.
Coffee and treats will be available at Kings Crossing Mart. There will be plenty of work to help with during the party.
Among the projects in need of assistance are assembling a hoop house, cutting grass, taking boards off an old fence and garden cleanup. Garden tools such as lawn mowers, weed eaters, post diggers, measuring tapes, shovels, rakes and drills to share would be appreciated.
For more information: Lua Siegel, 503-654-0802.
Nearman, Jones to hold debate Sunday
House District 23 Rep. Mike Nearman and challenger Beth Jones will take part in a debate Sunday from 6 to 8 p.m. at the Polk County Fairgrounds in Rickreall.
The event is free and open to the public.
Nearman was elected in 2014. Jones entered the race for the same position in 2014 as a member of the Independent Party of Oregon, but dropped out prior to the general election.
Both are seeking the 2016 Republican nomination.
Gator Gaynor, host of the radio show Gator's Radio Experience on 1430 KYKN, will serve as moderator with assistance from co-host Denise Nanke.
For more information: Gator Gaynor, 503-393-1430.
Garden club holds monthly meeting
The Dallas Garden Club will hold its monthly meeting Monday at 6:30 p.m. The meeting will be held in the Builders Room at Evangelical Bible Church, 1175 SE Howe St., Dallas. Enter through the breezeway on the Miller Street side.
Patricia Loveland, president of the Willamette Valley Daylily Club, will present on the variety and beauty of daylilies.
Visitors are always welcome. Club membership is open to both men and women.
For more information: Gaye Stewart, 503-510-4370.