Wednesday, April 20, 2016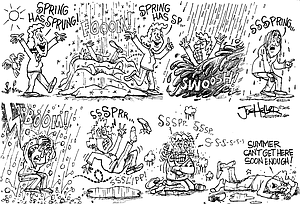 Proposed bond won't fix all streets
The proposed 10-year, $10-million street bond is going to be voted on by Dallas residents in the upcoming election. The bond, according to the city of Dallas, is $5 million short of what is supposedly needed for street repairs. Consequently, a vote in favor of the bond does not guarantee a homeowner's street will be repaired over the next 10 years. A home worth $200,000 will pay approximately $2,200 over the life of the bond with no guarantee this outlay will result in any benefit. Vote no.
Stephen Mannenbach
Dallas
Jones honest, God-loving Christian
Why I support Beth Jones for Oregon House District 23: she is an honest, God-loving, strong, Christian woman who will fight for what is truly best for our state and our people. She exemplifies what our government should be.
Brooke Stuller
Dallas
Jones has values, integrity for HD 23
I support Beth Jones for Oregon House District 23. She is a woman with integrity, values and someone I would strongly support in her decisions for the people. She genuinely cares and has a heart for all people and for where they are at. I love that she supports pro-life, the Constitution and family values. Beth Jones is someone I would want on my side.
Lynnette Anderson
Dallas
Re-elect Wheeler for commissioner
Jennifer Wheeler is a passionate supporter of the county she grew up in. She believes in the collaborative work being accomplished between agencies serving the residents of Polk County. Even more importantly, she listens to concerns, works with people and volunteers alongside citizens to make our county better. She is a committed and active participant in several Polk County nonprofit organizations. In her first term of service as a commissioner, she has grown into a knowledgeable and capable advocate for Polk County. I encourage you to support her for re-election as Polk County Commissioner.
Ken Braun
Dallas
Fixing streets our responsibility
Dedicated faith, deep personal convictions, and a willingness to support the Dallas of tomorrow makes our city a great place to live.
Faced with a decade of declining state gas tax receipts and fewer street repair dollars, Dallas citizens must choose. Do we acknowledge our individual responsibility as citizens of Dallas to protect and preserve the Dallas street infrastructure or do we put off for future generations to re-build the decaying local street system?
The responsible decision is to rebuild the Dallas street system by passing the May street bond.
Wanda Davis
Dallas
Dallas community shows support
It is reassuring to know that the Dallas people look out for each other from children's sports to the senior citizens. On top of that, volunteer organizations abound for about every need. One thing I never suspected was the personal compassion and interest that is there when tragedy occurs. At the untimely death of my granddaughter, Makenzie Lyman, people "came out of the woodwork" to comfort and console — and above expectation contributed financially to her final expenses. Grace Community Church did so much and generously provided hospitality for the hundreds of those who graciously attended her memorial service. The Dallas Mortuary Tribute Center staff is to be commended for the caring and being most helpful. Thank you Dallas community from being there for us.

Stann Lyman
Dallas
Voters should learn more about Jones
Today I invite voters to investigate a candidate running for state representative District 23: Beth Jones. A vote for her would bring someone to Salem that would work for the things that made this country great: the Constitution, for families, for our military. I know her to be a woman of substance; ethical, morally strong, with lots of local involvement. She has more governmental experience than the incumbent and investigates concerns fully and carefully. She listens to both sides of a problem and works diligently to solve the issues brought before her. She's the best candidate.
Dede Perkins
Dallas
Streets will only get more costly
I urge you to support the Dallas street repair bond. We are at a critical point regarding the condition of our streets. Two-thirds of Dallas' streets are rated poor to very poor. The cost of repairs will increase the property owner's taxes between $88.50 to $147.50, depending upon the value of the home. The street repair bond is a viable answer. The longer it's delayed, the more it will cost.
Please join me in supporting the street bond measure. Let's create a positive impression for our established businesses and new businesses exploring the Dallas area.
Nancie Rogers
Dallas
Repairs needed for Dallas streets
If your roof springs a leak and you fix it right away, the cost is minimal. If you wait until there are buckets everywhere and the only answer is a whole new roof, the expense is huge.
Infrastructure is similar. Maintaining the streets in good condition adds years to their life. But let them deteriorate enough and the cost of repair becomes exorbitant, up to and including the need for total replacement.
Many Dallas streets are approaching that critical point. We can pay the present cost, or saddle our kids with a horrendously worse one. The choice is ours.
David Shein
Dallas
Don't take more money from citizens
Well, folks here we go again. Somebody wants to take our hard-earned money and spend it on street improvements. That's going to take some big bucks. $50 million in $10 million increments. It is public knowledge, and the city has admitted they have "deferred" street maintenance for 20 years. Wouldn't you like to know where the money that was collected from the Dallas citizens for 20 years went to, and what it was used for? Vote no on the street tax bond.
Ali Rion
Dallas
Road repairs to help neighbors
As I view the dozens of street photos sent to me by friends, I asked myself what kind of a neighbor would I be if I opposed the street bond? The collection included missing pavement on Southwest Brown and Southwest Clay Street. There are photos of alligator pavement patches on Southwest Elmwood Drive, Southwest Robb Street and Northwest Sunny Drive. Potholes on Southeast Lyle Street and Southeast Lewis Street.
And standing water on Southwest Hayter Street, Southeast Godsey and Southwest Allgood. Please join me and your neighbors in voting yes to improve Dallas's livability by repairing our residential streets.
Rich Rohde
Dallas
Re-surface now to avoid re-building
It was 37 years ago that we built a house on a one-block cul-de-sac in Dallas. Since then, there has been no major activity and new pavement at all on that street.
In fact, according to the engineering study done for Dallas streets, it is going to be one of the more expensive blocks to re-surface — and it needs it.
In short, support for the Dallas street levy has become critical because many of our streets are nearing the point where they don't need re-paving. Instead, they will need re-building.
Support the levy when you vote in May.
Dave Weston
Dallas
Street bond serves greater good
All streets need repair — now or in the future. Early repairs save money, and well-maintained streets are a preferred alternative to expensive street reconstruction.
Dallas citizens contribute tax dollars to public education even by those who have no children in school. We support the Dallas police even though we may never (thankfully) need their services. We support these services for the good of the Dallas community.
The Dallas street bond is another community service we should support because it will fix 22 miles of residential streets, making Dallas a more attractive and more business friendly community. Support improved Dallas streets.
Pete Christensen
Dallas