Wednesday, August 3, 2016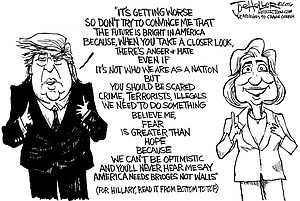 Ellendale traffic causes headaches
Have you noticed the increase in traffic in Dallas? Especially on Ellendale. There is an increase in traffic accidents and slow downs on this narrow, two-lane road, most of which doesn't have curbs or sidewalks.
Why you may ask. It is because of the huge residential subdivisions that are being built, bringing in hundreds of new residents to our small town. For years the city knew and planned for this growth, but made no attempt to put in place the street infrastructure that is needed to accommodate such an influx of cars, trucks, and huge construction vehicles into Dallas. The roads should have been put in and widened and upgraded with lights, curbs and gutters, etc., first. You don't put the cart before the horse. This huge increase in traffic causes dangerous situations. I see the city failing its residents with a lack of foresight in this.
Ali Rion
Dallas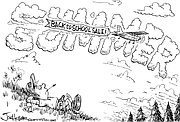 Duck Race helps vision, hearing
Saturday, the last of the 2,000 ducks were gathered by 4:38 p.m., ending the eighth annual Dallas Lions Club Duck Race.
This is a thank you to our wonderful community. The first 162 numbered ducks to cross the finish line have won prizes for the purchasers of corresponding Duck Tickets. Dallas sponsors — what an amazing display of support and generosity. Beyond all the fun and cheering, it is important for you to know this: each of you who bought a ticket, provided a prize, publicized the event or helped in sales are directly responsible for elementary school vision screening (nearly 1,200 children were screened last year), the gift of sight for someone who needed eyeglasses, the purchase of hearing aids for someone who struggled to hear, student scholarships, Bikes for Reading programs and much more.
100 percent of our proceeds are committed back to our community. Special thanks to the Dallas Chamber for hosting Summerfest, Polk Itemizer-Observer for special coverage of the Duck Race and finally, the fabulous Boy Scout Troop 288 who set up channels, pursued and herded the waterfowl through perilous whirlpools and unpredictable undercurrents along that slippery creek, and gathered the weary ducks as they reached their final destination. What a fabulous community we live in. Thank you Dallas.
Dallas Lions Club
Susan Gartland
Dallas
Thank you from Dallas Fire & EMS
Mahalo Dallas!
On behalf of the men and women of Dallas Fire & EMS, we wanted to thank the Dallas Area Chamber of Commerce for selecting our organization to serve as the grand marshals for the 2016 Summerfest Parade.

We are fortunate to have a group of dedicated volunteers who leave their dinner table, miss their child's ball game, or leave the theater on date night with their spouse when the pager goes off to answer an emergency call in Dallas and beyond. Dallas is a great community, and the continued support we receive from of our residents, businesses, and elected officials is never taken for granted and always appreciated.
Sincere thanks to all who braved some warm temperatures on Friday night to attend our annual hydro cart races. This was followed by our open house on Saturday morning, which was a huge success. We thank all who visited the fire station to see the equipment, meet our members, ask about volunteer opportunities, and learn how to save a life through hands-only CPR. We would be remiss if we didn't thank two local businesses, Limeberry and Domino's Pizza, who provided coupons for those who learned hands-only CPR. We also would like to recognize Graphic Latitude for the amazing Dallas Fire & EMS "Hawaiian Luau" themed T-shirts that were a hit with all.
Our doors are always open to community members interested in joining our team. If you are interested in being a part of an exciting organization, please fill out an application. Training and equipment is provided free of charge, and while you won't receive a paycheck, you will have the satisfaction knowing you helped a neighbor in need.
Renee Wilson
Vice President
Dallas Volunteer Firefighters Association
Dallas
Dallas residents: Pick up your trash
Following the parade on Saturday I was dismayed to see all the trash left behind. The sidewalk and streets had so much trash left.
Then we went down to the Ian Tawney park to see cigarette butts all over the place. The lack of pride was amazing. Do the people of Dallas have so little respect for our city that they can't be bothered to help keep it clean? Lastly to the guy in the jacked up truck who couldn't park it between the lines. It was not my problem that you couldn't get out. I wasn't impressed when you pounded on my window even though you were wearing a Dallas Fire & EMS hat. I would like to think you just happened to have that hat, that you aren't actually one. You and you're shiny Ford. If you can't park it, don't drive it. You clearly can't.
Valerie Grice
Dallas