Wednesday, August 10, 2016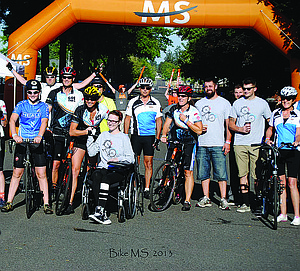 MONMOUTH — As a child, Shannon Snair made it a point to protect her younger sister Nora from all she could.
In June of 2013, Nora encountered something that not even big sis could tackle.
"My 26-year-old sister woke up feeling strange, slightly numb and really clumsy," Shannon said. "Over the course of the next two days, muscle weakness spread throughout the left side of her body until it was essentially paralyzed."
Two days later, she received an emergency brain biopsy when doctors discovered Nora had acute sudden onset of tumefactive multiple sclerosis.
"I have always watched out for my little sister, but this disease was a bully I couldn't protect her from," Shannon said.
Shannon could have let the diagnosis devastate her.
Instead, it inspired her.
"One day, while (Nora) was still in the hospital, I got on the internet and did some research about MS in Oregon and realized Bike MS was right around the corner and located right here in Monmouth," Shannon said.
"I realized that, although I couldn't stop what was happening to her, what I could do was raise money to help fight MS."
Shannon hadn't heard of Bike MS prior to 2013, but she quickly grew to love it.
"Every time I took a training ride or received a donation, I felt I was helping my sister and everyone else with this disease," she said. "I was finally doing something to help."
Shannon was ready to participate in Bike MS for the first time in August of 2013. She assumed she would show up, ride the 35-mile route, and head home. She was placed on Team Roadkill, but didn't know any of the members.
"It's an amazing experience," Shannon said. "Every year, I am inspired by the people who participate in this event. Reconnecting with this community of people who are so positive and self-effacing, every year I feel recharged by being around these people. The team I had been assigned to (in 2013) — Team Roadkill — treated me like I had been a part of their group for years."
Nora, only six weeks after being discharged from the hospital in 2013, showed up to Bike MS in a wheelchair.
"On the drive, I struggled with anxiety," she wrote in a blog post. "After a month and a half in the hospital, I saw myself as a victim of circumstance — a near-invalid patient with an incurable neurodegenerative disease. I assumed my life was only going to get worse from that point on. 'Why am I doing this?' I thought to myself. 'I want as far away from MS, and anyone who has anything to do with it, as possible.'"
She arrived to find bright colors, energetic music and people who weren't letting MS define them.

"MS is a terrible disease and can be cruel and reductive, but the people who live with it every day are some of the best folk I've met in (all my) years," Nora wrote. "They are generous, encouraging, and so incredibly welcoming. So many went out of their way to introduce themselves and to make sure I felt included in the weekend's festivities. I felt empowered and reinvigorated just by being in their presence. … These people, I quickly realized, were not victims. These were warriors, survivors and they were anything but defeated. By the end of the weekend, I was no longer a victim — I'd become a warrior, too. I learned that this disease can be fought, and my new friends were my comrades in arms. Best of all, I was no longer alone in my fight. I had found my community."
Shannon has taken part in Bike MS every year since she started — and was even joined by Nora for a bike ride in 2014.
Her goal remains simple.
"The research towards new medications and potentially a cure is advancing rapidly," Shannon said. "The more participants we get; the more money we will raise to keep that research going."