Wednesday, August 10, 2016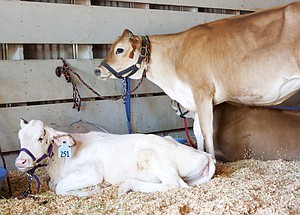 RICKREALL — Most people at a county fair wouldn't be surprised to see people riding horses, bulls or even kids riding sheep — momentarily at least in a "mutton busting" event.
How about camels? Or in a helicopter? Or atop a monster truck?
Oh yes, you will find all that at the Polk County Fair when the annual festival kicks off on Thursday.
"Boots, Chaps and Cowboy Hats" is the theme for the 2016 edition of the fair, and you no doubt will see a lot related to being a "cowboy" or "cowgirl" during the three-day event.
As a matter of fact, fair managers and exhibit superintendents have animals coming out of their ears, metaphorically speaking.
"We are going to be really full. We are putting them in every nook and cranny," said Tina Andersen, fair manager. "We are trying to stretch that small animal barn to make it bigger."
Boots, Chaps and Cowboy Hats
What: 2016 Polk County Fair.
When: Thursday through Saturday 10 a.m. to 10 p.m.
Where: Polk County Fairgrounds & Event Center, 520 S. Pacific Highway West (99W), Rickreall.
Admission: Daily: adults, $8; juniors (ages 11 to 15), $5; seniors (62 and older), $5; children 10 and younger are free. Season passes: adult, $20; junior, $10; and senior, $10.
Of note: Seniors are free on Thursday until 4 p.m. and active duty military are free on any day with a photo ID. Due to the rodeo, adult admission after 4 p.m. on Thursday is $10.
Parking: $3 per car.
See more in Section C.
Returning for a second year is "Hell on Hooves" Rough Stock Rodeo, and the fair has the seating to accommodate a larger crowd this year.
"Tina worked really hard and brought in tons more bleachers, so we are going to have tons more seating at the rodeo," Fair Board Chairwoman Anna Scharf said.
If after strolling through the packed animal barns and watching the exciting rodeo events, you are looking for something atypical of a county fair, you can find plenty to satisfy your curiosity.
Carl, dubbed the "world's largest caramel popcorn ball," will occupy the only place it could fit: in the middle of the grass playground near the Les Schwab Stage.
Camel rides will be in the lawn area just south of the sheep barn, and on Saturday evening, you can take a ride in the American Thunder Monster Truck.
A different sort of rodeo — this time with ATVs — is scheduled for Saturday afternoon.
Madjek's inflatable carnival, the kids' safety area, carnival games and laser tag will be open each day to entertain the kids.
A grant from the Siletz Tribe enhanced the safety area in Building D, providing for giveaways and a booth where parents can have their children's fingerprints taken and get a photo for identification purposes.
"That is going to provide some really cool stuff in our kids' safety area," Andersen said.
Oregon Beverage Service will be operating the beer and wine garden, offering a selection of Oregon microbrews and wine.
Nearby, the Les Schwab Stage will feature artists ranging in style from old-timey to blues to classic rock.
All the fun will cost a little bit more Not in admission costs, but in parking.
This year, the fair will charge $3 per car to park.
That doesn't mean you have to make a second stop to pay to park, though: admission and park fees will be collected at the fairgrounds entry point.
Scharf said the new fee is due to the state's minimum wage increase.
"Minimum wage went up July 1. Our fair is in August," she said. "A lot of people we hire are coming in before fair, and they stay after fair. We can't afford to absorb those costs."