Wednesday, August 17, 2016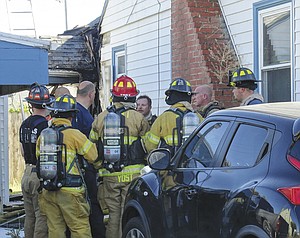 Firefighter car wash offered Saturday
The P1FFA's Mock Decon Car Wash and Barbecue will be held Saturday from 11 a.m. to 2 p.m. at Station 90, 1800 Monmouth St., Independence.
Cost is $5 per plate for a burger or hot dog with chips, corn on the cob or watermelon and lemonade. Car wash by donation.
Fire trucks will help create a drive-thru car wash experience.
Money raised from the event goes to the annual holiday food baskets and funding for the Boy Scouts.
Bridgeport sale is Friday to Saturday
Bridgeport Chapel's annual garage sale and bake sale will take place Friday from 8 a.m. to 5 p.m. and Saturday from 8 a.m. to 3 p.m.
The sale, located at 16930 Bridgeport Road, Dallas, will feature furniture, collectibles, clothes, homemade pies, cookies, breads and more.
All proceeds go to a mission project.
Pioneer Loop picnic Thursday
All current and former residents of Pioneer Road and Rueben Boise Road are invited to meet at the 85th annual Pioneer Loop Picnic Thursday at 6 p.m.
The picnic will take place at the Siebert/Fredrickson Shelter at Dallas City Park. Attendees are encouraged to bring a main dish and a side or dessert.
For more information: Kris Golly, 503-623-8735 or Christina Latham-Brown, 503-623-3923.
SMART to attend farmers market
Start Making A Reader Today (SMART) will be at the Original Independence Farmers Market on Saturday.
SMART, a nonprofit organization, provides volunteers to read to kids at Independence Elementary School and two schools in Dallas. SMART will have information available, free books and volunteer information.
The market is located at 302 South Main St., Independence and runs from 9 a.m. to 2 p.m.
Moonlight and Vines Gala Friday
The West Valley Foundation will hold the 17th annual Moonlight and Vines Gala Friday from 6 to 9 p.m. at the Nesmith Readiness Center, 12830 Westview Drive, Dallas.
The event includes a gourmet dinner, dancing and silent auction.
Proceeds from the event will go toward scholarships for students pursuing health care careers and Salem Health West Valley services.
The event raised $42,000 for the foundation in 2015.
Tickets cost $50.
For more information: 503-831-3456.
Central Lions Club to host cruise-in
The Central Lions Club will hold its fifth annual Cruise-In Saturday from 9 a.m. to 3 p.m. at Riverview Park in Independence.
The event is free and open to the public.
Registration is $20 per car. The event raises money for those in need of glasses and hearing aids in the community.
For more information: Debbie Bach, 503-881-9567.
Dallas library hosts author Schultz
Children's book author Heidi Schultz will visit Dallas Public Library, 950 Main St., on Thursday at 4 p.m.
Thursday's event will be the first since the author released her newest book, "Giraffes Ruin Everything" on Tuesday.
She will also discuss her books "Hook's Revenge" and "Hook's Revenge, Book 2 The Pirate Code." The library will have copies of all three books available for purchase. Schultz will be signing books at the end of her talk.
For more information, call 503-623-2633, visit the library or go to facebook.com/dallaslibraryoregon
Farmers collects school supplies
Famers Insurance Nathan Moore Agency is collecting school supplies for Monmouth and Ash Creek elementary schools.
Donations may be accepted every day from 9 a.m. to 6 p.m. at the Nathan Moore Agency, 157 Main St. W., Monmouth.
The agency's goal is to collect $1,000 worth of supplies by Sept. 2 to donate to the two schools.
For more information: 503-838-1199.