Wednesday, August 24, 2016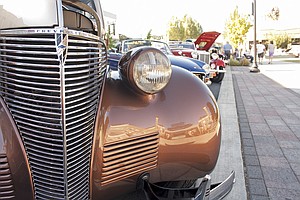 Karen Messer at Dallas library
The Dallas Public Library, 950 Main St., will feature the artwork of Karen Messer through October.
Messer received a degree in media studies from Sonoma State University. Her photography is on display on the library's Art Wall. In October, her paintings will be shown.
Her work has been shown in exhibits in the Southwest and Pacific Northwest.
For more information: 503-623-2633
'Popsicles in the Park' in Falls City
The city of Falls City is inviting residents to a free event and park-to-park walk on Thursday.
"Popsicles in the Park" will begin in Fay Wilson Memorial Park (Lower Park) at 6:30 p.m.
People can enjoy a walk through Falls City's parks and the popsicles are free.
For more information: 503-787-3631.
Food bank to hold benefit concert
The Polk County Food Bank will hold a benefit concert Sunday from noon to 2 p.m. at the Dallas Presbyterian Church parking lot, 879 SW Levens St., Dallas. The event is free and open to the public.
Donations of canned food and/or cash will be accepted.
For information: Joan Coleman, 503-798-6286.
Community Fiesta returns Saturday
The annual Community Fiesta returns Saturday and Sunday at Riverview Park in Independence.
The festivities begin 4 p.m. Saturday with vendors, music and the coronation of the Fiesta Queen.
The events continue through 10 p.m. Sunday with Mexican and Latino music, dancing, food and more.
Senior center hosts workshop
Monmouth Senior center will host a six-week workshop about practical skills for living with chronic pain.
Self-management skills taught will include working with a health care team, managing symptoms and medications and setting weekly goals.
The workshop is designed to complement and enhance medical treatment.
There is no cost to attend. Classes will be held Wednesdays from 1 to 3 p.m. from Wednesday (today) through Sept. 28.
Class materials include a course book and CD.
For more information: 503-587-5129. On-site registration is available.