Wednesday, August 24, 2016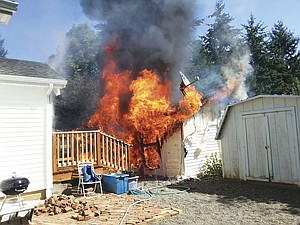 DALLAS — A garage and shed were lost and two people suffered minor injuries in a house fire in Dallas Saturday morning.
At about 11:06 a.m. Saturday, firefighters were called to a home in the 400 block of Southeast Uglow Avenue on a report of a garage on fire.
According to Dallas Fire & EMS, the homeowner had been working in the detached garage when the fire broke out.
"The resident was grinding some metal," Dallas Fire spokeswoman April Welsh said. "That what we initially think started the fire."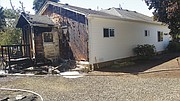 Firefighters arrived at about 11:17 a.m. and had the fire under control by 11:50. The fire had spread to a nearby shed and utility room on the main house before crews were able to contain it.
"The garage was a complete loss and the shed was a complete loss," Welsh said. "We were able to keep the fire from going inside the residence."
One of the residents and a firefighter who responded suffered minor inhalation injuries during the fire.

"Both the resident and the firefighter were treated on scene," Welsh said. "Neither were transported."
A Dallas fire chaplain helped the residents — two adults — connect with the American Red Cross for assistance.
Welsh said this is yet another example why people should be careful when working in dry and hot conditions.
"Be very conscientious about your outdoor activities," Welsh said. "(This is) another example of how something so minor can create an issue."
Fifteen firefighters and 20 total personnel responded to the scene.
Dallas Fire was assisted on the scene by Southwest Polk, Polk Fire No. 1, Dallas EMS, and NW Natural. Polk County Sheriff's Office and Dallas Police closed the road while crews put out the fire.