Wednesday, August 24, 2016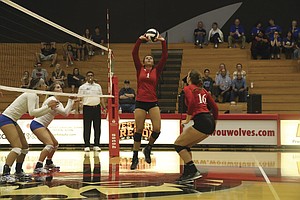 MONMOUTH — Western Oregon's volleyball program hopes a new coach leads to newfound success in 2016.
The Wolves finished 8-21 overall and 5-15 in Great Northwest Athletic Conference play — tying for eighth place — a season ago.
Since then, Tommy Gott was brought in as head coach.
"I've had dreams and goals of being a Division II volleyball coach," he said. "That's one of the big overlying things. Another aspect was I've coached in this region for seven years. I have some familiarity within the region. It's nice to have a little bit of comfort and some more confidence."
Originally, Gott saw himself as a high school coach, but after playing at the collegiate level and becoming an assistant, he became addicted to competing.
"The longer I stayed working and climbing through the ranks, I appreciated and enjoyed the competitiveness," Gott said.
Gott served as an assistant coach at Chico State prior to arriving at Western Oregon. WOU gave him his first chance at being a college head coach, though he may have a difficult challenge ahead of him.
He inherits a program that has won 13 games over the past two seasons, but he sees a team that is hungry to change its course.
"I think right now we're seeing a group of girls who are hungry," Gott said. "They are dedicated and willing to do the hard work and put in the time."
The Wolves bring forth an inexperienced roster, with just four players — Alisha Bettinson, Sheila Limas De La Cruz, Sydney Blankinship and Christie Colasurdo — returning from last year's squad.
Bettinson led WOU in kills in 2015, while Colasurdo led the Wolves in digs — but WOU's starting lineup remains up for grabs for now.
"I think the big thing is establishing what our standards are and what we are trying to accomplish every day in the gym," Gott said. "We're starting to get established a little bit who we think some of our starters could be, but we'll be playing around with lineups."
Western Oregon opens its season at the Concordia Labor Day Tournament Sept. 1-3 in Portland.
Until then, the Wolves will be hard at work finding the right mix of players.
The Wolves have been one of the GNAC's bottom dwellers in recent seasons, but Gott sees reasons for optimism and he believes WOU has what it takes to surprise the competition.
"I think we have a strong base," Gott said. "We have a talented team. We're going to be able to do a lot of good things this year. We have a system that is a good fit for this type of program and university and I think we'll see their confidence grow throughout the season."