Wednesday, August 24, 2016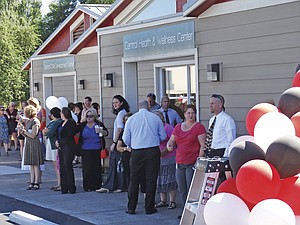 INDEPENDENCE — When Central Health and Wellness Center opened its doors last year, the goals were to provide medical, behavior health and dental services to Central School District students and the communities.
Brent DeMoe, Polk County Family and Community Outreach coordinator, said the center projected 1,232 visits with patients in the first year. That target was developed through research prior to opening the center. By the third year, the center was expected to have 2,956 patient visits.­­
After the first year, the center has exceeded expectations of DeMoe, as well as partners West Valley Health Services and Capitol Dental.
"We've gotten really busy, much faster than we thought we would," said Karen Remington, of West Valley Health. "We went from minimal, part-time staff to full-time providers in the first couple of months."
The center opened in July 2015 for six hours, three days a week. By September 2015, it was 8 a.m. to 4:30 p.m. Monday through Friday. In May, the center added three Wednesdays a month where it is open until 6:30 p.m. for parents who work during the day.
It serves both students and community members, which is one reason why it could be self-sustaining earlier than projected, DeMoe said.
"Most school-based health centers in the state are not open to the community," he said. "If it was only to serve students here, it would not be self-sustaining."
While students can get health care at the center regardless of ability to pay, the health and wellness center was never created to be a free medical clinic.
In addition to medical care, the center has a dentist on site two days a week and a hygienist once a week.
"We may add another hygiene day once school starts back up," said Linda Mann of Capitol Dental.
The need for dental services was great, Mann said, noting that at least a third of kindergarteners through second-graders reported never having seen a dentist. To help serve more children, Capitol Dental received a grant to start a teledentistry program.
"We have a hygienist and dental assistant that goes into the three elementary schools here in Central and takes X-rays, oral photos and does an assessment on each child that's returned a consent form," Mann explained.
The hygienist then sends the information to a dentist, who reviews the child's information and determines if care can be given there at the school or if the child needs to be seen in a dental office.
"And then, when that's finished, she does a cleaning and sealants and fluoride, all the preventative services," Mann said.
At the Central Health and Wellness Center, a committee comprises youth from Central High School, who help change the culture at the school, and also have taken part in increasing health awareness.
The Power Peers class met with representatives from the center and talked about medial issues they worried about, including mental health, depression, bullying.
In response, Doug Gouge, from Polk County Health, trained students in the Power Peers leadership class in suicide prevention.
Central High has been selected as one of three schools in Oregon to be part of a focus group, said Kim Prosser, youth outreach coordinator.
The center operates in cooperation with the Central School District. Its policies are passed by the Central School District board of directors.