Thursday, August 25, 2016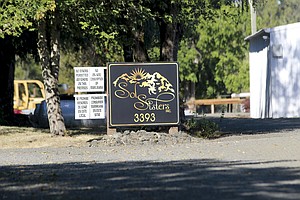 INDEPENDENCE — Organic Investments submitted a site design review to the City of Independence for 16,840-square feet of greenhouses for growing cannabis, and a 8,740 square-foot building for processing of cannabis and office use.
What is legal in Oregon?
Age restriction: You must be 21 years old or older to possess and use recreational marijuana.
Possession: You can carry up to one ounce of ready-to-smoke marijuana on your person and keep up to eight ounces at home. You can't legally take marijuana across state lines.
Growing: People can grow up to four plants per household (not per each member of a household) for personal use.
Public use: Marijuana use in public is prohibited.
Measure 91, the measure that legalized recreation marijuana, defines public as "a place to which the general public has access and includes, but is not limited to, hallways, lobbies, and other parts of apartment houses and hotels not constituting rooms or apartments designed for actual residence, and highways, streets, schools, places of amusement, parks, playgrounds and premises used in connection with public passenger transportation."
If using at a private residence, keep in mind that if someone outside can see you, that could be considered public.
Edibles: Since June 2, medical dispensaries authorized to sell recreational marijuana can sell one dose (no more than 15 milligrams of THC) of cannabis-infused food or drink per customer per day.
Parole and probation: In Polk County, it is illegal to possess or use recreation marijuana while under the supervision of Community Corrections.
Driving under the influence: Like drinking and driving, it is illegal to drive under the influence of marijuana.
For more information: OLCC has created a website www.whatslegalOre... to provide information on what is legal — and what isn't.
*Compiled by Jolene Guzman
Mark Jennings, of consulting firm Pure Botanicals, took part in a community meeting in January to discuss plans. Jennings said at that meeting there were no plans to grow plants on-site and that the company was interested in purchasing 1.2 acres. The majority of the people at the meeting spoke against the project.
What is legal in Oregon?
How are marijuana businesses regulated in Polk County?
County
In January 2016, the Polk County Board of Commissioners approved amendments to the county's zoning ordinance to allow production, processing and sales of recreational marijuana with designated zones.
The amendment allows marijuana production — growing and primary processing — in the exclusive farm use (EFU), farm/forestry (FF), farm/forestry overlay (FFO) and timber conservation (TC) zones.
Retail sales — dispensaries — are allowed in one area of the county, the Northwest Polk County Community Commercial zone near the unincorporated communities of Grand Ronde, Fort Hill and Valley Junction. The logic behind that designation was that it was the only area of the county where access to an urban area with a dispensary would be difficult.
Marijuana processing was restricted to light industrial zones and the Rickreall unincorporated community industrial zone.
Light industrial zones are located within urban growth boundaries where the county's planning commission believed the infrastructure (water, power, transportation routes) needed for processing would be available.
Cities
Dallas: Leaning on the federal prohibition of the drug, the city of Dallas doesn't allow marijuana businesses. The city's code makes it a requirement that all businesses operating within its limits abide by federal law, which doesn't recognize marijuana as legal.
Falls City: The Falls City City Council mulled options for restricting locations dispensaries could operate to a very small portion of town, but on its attorney's advice, the council abandoned that strategy. Instead, the council did nothing to impede the law from taking effect, which means dispensaries are allowed. None are open in town, however.
Independence: Medical and recreational dispensaries are or will be allowed (recreational shops won't begin opening until later in the year), with two operating medical outlets, Blackbird Indica and Healing Green.
Monmouth: Medical and recreational dispensaries are or will be allowed, but none are operating.
Permitting: Permits for marijuana businesses of all types are issued by the Oregon Liquor Control Commission.
The site design review submitted to the city now includes a greenhouse.
"My sense was (the community meeting) was just an effort to bring everyone to the table," Joey Shearer, Independence contract planner, said. "Those informal meetings are useful to notify the neighbors when you have a new project, but it's not a code requirement meeting. It doesn't play an official role (in the decision)."
The submitted site design review is for two parcel frontings on the east side of Stryker Road, just south of the intersection with Skyraider Drive. The area is zoned for heavy industrial and would not require any rezoning.
Public comments will be accepted through Sept. 2.
The city's decision on approving the site design review is only dependent on the development code.
"This decision has to be based on the decision criteria in the development code," Shearer said. "Comments from everyone are most useful when they are specific and tied directly to development code criteria."
Shearer said a timeline for decision is difficult to estimate and depends on the completeness and any potential issues with the site design review materials.
Organic Investments isn't the only location looking to grow and/or process cannabis.
The former location of Lavender Lakes Farms, off highway 99W in Monmouth, was sold to Sol-Sisters, Inc. in April.
The farm is no longer selling lavender.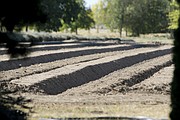 Sol-Sisters received a recreational marijuana license in May.
Nine recreational marijuana growing licenses have been approved for Polk County as of Aug. 8.
A producer must establish cultivation batches, which may not have more than 100 immature plants, and assign each batch a unique identification number.
A producer may have an unlimited number of cultivation batches at any one time.
Canopy size limits are split into indoor and outdoor tiers. Indoor tier I producers are approved up to 5,000 square feet.
Tier II producers are approved from 5,001 to 10,000 square feet.
Outdoor production is also split into two tiers. Tier I is approved up to 20,000 square feet. Tier II is approved for 20,001 to 40,000 square feet. Square footage of canopy space is measured starting from the outer most point of the furthest mature flowering plant in a designated growing space and continues around the outside of all mature flowering plants located within the designated growing space.
A producer may designate multiple grow canopy areas at a licensed premise, but those spaces must be separated by a physical boundary, such as an interior wall or by at least 10 feet of open space.
Written comments about the plans for Organic Investments may be submitted to the City of Independence, 555 S. Main St., PO Box 7, Independence, 97351.
A copy of the application documents and evidence submitted by or on behalf of the applicant and applicable standards are available for inspection at City Hall.