Wednesday, December 7, 2016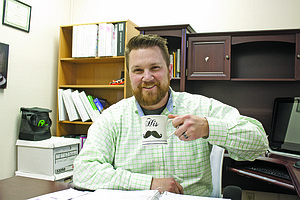 DALLAS — JD Shinn's first weeks on the job as the Dallas Area Chamber of Commerce's chief executive officer has him talking to a lot of people.
That is by design, part of his "90 days, 90 conversations" goal to help create a new strategy for the chamber and visitors center.
"A lot of that is just being able to be that listener that is catching what the business community is struggling with, so we at the chamber can support those needs for Dallas," he said. "It's a unique town, so we have to be able to support it in a way that this community needs."
A pattern emerged when Shinn began talking with people about what those needs are after he officially took the reins in October.
The most mentioned is that Dallas businesses — especially the "mom and pop" operations — want more networking opportunities.
"They are small companies that want to just relate to each other and be able to feed off each other, so networking is important," he said.
He said the chamber has venues to increase networking in place by providing more support to Young Pros, a networking program aimed at professionals 35 and younger, and setting aside time at chamber luncheons for people to talk.
Helping companies work together to improve the business landscape is something Shinn hears from nearly everyone he talks to, as well.
Shinn said with such a small staff at the chamber, it's been difficult to follow through on and balance those needs.
He is putting a lot of thought into ways of improving those efforts, which he said begins with establishing trust in the organization.
"Rebuilding that is a huge priority for me. That is going to take a lot of different things, so working on plans for that occupies my 9:30-at-night-to-midnight timeframe," he said. "It feels like I'm back at college doing late nights."
Moving from rebuilding to expanding chamber programs will require focus on increasing membership. Shinn said just prior to taking over, the chamber had about 120 members. That isn't enough, he said.
"As far as survival, we need to be at about 180. We are not really there right now," he said. "We desperately need to probably double the number of members we have now."
Shinn has made a point to talking with businesses who have left the chamber to learn about the reasons behind those decisions.
He said there has been themes in those discussions, too.
He declined to elaborate, saying "I'm going to hold that in my head. Those things are going into part of the planning process."
During his reintroduction tour of Dallas — he graduated from Dallas High School in 1998 — his impression is that the business environment could be stronger. He wants the chamber to do its part in making that happen.
"That's our job to support the business community and they have lost trust that that can happen," Shinn said. "I would say that, if we do our job I think that that will promote the business community growing and getting better."
His longer-term plans include developing a youth leadership program to work with high school students and finding ways to facilitate "conglomeration" between companies that improve the business community.
"I would love to see the business community and the association community come together and do good things that everyone cares about," he said.
Shinn will discuss 90 conversations discoveries and his plans Monday during a "state of the chamber address," the last chamber luncheon of the year.
"I'm going to be honest with where we are at," he said. "Then … talk about where we want to go in the next year."