Wednesday, December 14, 2016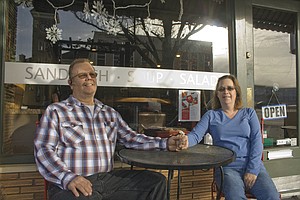 DALLAS — Doug and Renee Pierce, of Dallas, got married in June and wanted to find a way to spend more time together.
Doug worked 25 years as a truck driver and wanted to end his days on the road.
"I wanted to downsize a little," he said. "Not be gone as much."
Check it out
What: Courtyard Coffeehouse & Deli.
Where: 156 SE Mill St, Dallas.
New Hours: 7 a.m. to 7 p.m. Monday through Friday; 8 a.m. to 3 p.m. Saturday and Sunday.
Contact: 503-623-9686.
Their solution? Taking over Courtyard Coffeehouse & Deli in downtown Dallas.
Renee said the move seems perfect.
"We are going to be together all the time," she said with a laugh.
Doug worked in restaurants decades ago before he joined the U.S. Navy, where he was worked as a cook.
"He fed everyone on the ship," Renee said.
She said she's leaving that responsibility to Doug at Courtyard.
"He's the cook," she said. "I'm the cashier."
The operation is a family affair, with Doug's daughter, Jamie Pierce, and Renee's mom, Connie Ames, working behind the counter, too.
While the coffee shop and deli isn't the full-scale restaurant Doug has dreamed of owning yet — featuring sandwich, wraps, soups, a salad bar and coffee — it's a start for the couple.
They officially took over Dec. 1 and by the next day, Renee was already nailing regular customers' names.
"Hi Tom," she said to a customer as he walked through the door. "It's Tom, right?"
The man nodded his head and headed toward the counter to place his order.
Doug said they want to make customers feel at home.
"We want to make it a little more personable," he said.
With that in mind, they will be keeping favorite sandwiches on the menu.
Popular creations — Gobbler, Spicy Jack, and The Whittaker — still are featured.
Doug is adding chili dogs to the menu on Thursdays, and everyone's favorite soups still will be served.
The resident cook agrees with his customers on the best sandwiches — Gobbler and Spicy Jack — and he likes a good mocha, too.
"This is a perfect fit for him," Renee said.