Wednesday, February 10, 2016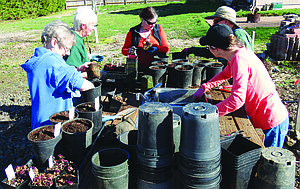 INDEPENDENCE — A half dozen Master Gardeners laughed and chatted around a planting table at Mt. Fir Inspiration Park on Monday afternoon.
Plants were expertly removed from their pots and replanted in gallon pots so they could grow into their new home on time for the annual Mother's Day Plant Sale.
"We're continuing to have new and unusual plants," said Lee Schlenker, president of the Polk County Master Gardeners.
Other gardeners have already split plants such as peonies and other flowers. Super Hot pepper seeds are beginning to germinate.
Carole Allen said she doesn't do much in her own garden this time of year.
"I just sort of leave it for another month," she said, adding that it is the perfect time of year to look through seed catalogues and dream about what you might plant.
But Schlenker said days like Monday — sunny and 64 — are perfect for getting back out there.
"You can tidy it up," he said. "Look and see what needs to be done, getting it ready for spring."
Seeds may be germinated inside for tomatoes and peppers. Peas are ready to be planted outside.
"Soak them and get them ready to be planted, and another round a week or two later," Schlenker said. By planting them with a week or so in between, it will give gardeners a more constant crop, he said.
Other seeds that may be planted outside are cold-weather crops such as kale varieties and lettuce.
The Monmouth Public Library has kicked off its seed lending library, where adults may choose up to five seed packets a day, no library card needed. Last year, the library gave out 3,200 packets of seeds through the program.
While gardeners wait for the last frost, they are always welcome to head to the Inspiration Garden, where the Master Gardeners have many displays.
"Anytime they want to get muddy, they can come out here and help," Allen said.
Even just to take a walk through the various gardens — from vegetables to a children's garden, medicinal to a memorial rose garden — everyone is welcome, Nancy Sullivan added.