Wednesday, January 6, 2016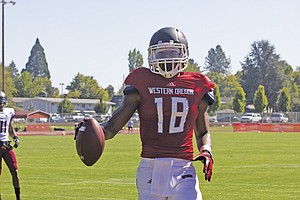 DENVER — It took Western Oregon alumni Tyrell Williams until the last game of the regular season to record his first catch with the San Diego Chargers.
He made sure it was worth the wait.
Williams hauled in an 80-yard touchdown catch, his first as a professional, during the Chargers' 27-20 loss to the Denver Broncos on Sunday.
"It's a weird feeling," Williams said. "It was like an outer-body experience. It was awesome."
Williams was part of the active roster with the Chargers for eight games during the 2015-16 season.
He made the opening day roster after signing with the Chargers as an undrafted free agent. He spent multiple weeks on the team's practice squad, but returned to the active roster in week 10.
"It was a good season," Williams said. "It was definitely frustrating at times. I want to go out there and play. I don't want to just be on the team. I want to be one of the guys out there making plays."
He finished with two catches for 90 yards.
Williams plans to return to Oregon for a few weeks before going back to California to begin training for a new season.
"It's a cool thing to be a part of," Williams said. "It's pretty close to how I pictured it would be."