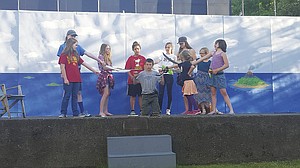 MONMOUTH — "Ready! And act — hold on."
Rob Harriman bolts off stage and grabs a chair from somewhere behind it, yanking it onto the otherwise empty platform.
By now, kids are piling onto the stage.
Harriman's voice bellows out commands and suggestions, his deep tone a stark contrast to the soft voices of children.
As the children move around the stage and run through a rehearsal of "Jolly Roger and the Pirate King," a production of Apple box Children's Theater, the empty stage comes to life.
It is a sight to see: Harriman in his director's chair on the grass, scurrying things down on a script, shouting out commands — albeit kindly — and kids, belting out lines, laughing and smiling.
Welcome to rehearsal night at Western Oregon University's outdoor amphitheater.
Harriman established Apple Box Children's Theater with his wife, Barbara, who is the company's production manager. As a child in the late '70s, Harriman acted in summer plays put on by Western Oregon University, then known as Western Oregon College, Barbara said. Professor Don Weiss was in charge of the company.
"When he passed away seven years ago, we had a memorial for him," Barbara said.
She added that the seed money from the memorial helped to start Apple Box Children's Theater, a company currently in its sixth production.
Outdoor theater is not as common as it used to be, and the Harrimans said they are happy to bring it back.
Funding for each production — one each summer — is provided for by Polk County Cultural Coalition. A budget of $2,500 sounds impressive, but after costumes, stage props, lighting, sound systems, and everything else that consists of making a successful production, there is not a lot of wiggle room.
"None of us are paid," Barbara said. "It's all volunteer."
Parents of the children acting in the plays are the most helpful, she added. They help paint the props, make costumes, set up sound systems and overall work to create a fun environment for the theater company.
The children acting in Jolly Roger and the Pirate King range from second to eighth grade.
Henry Doellinger, a soon-to-be fifth grader at Monmouth Elementary School, says he has worked with Apple Box Children's Theater before, and that he enjoys being in plays. His younger sister, Olive, is also in this summer's production. Both children play pirates.
Sarah Wabra, also a soon-to-be fifth grader, says she gets "really nervous" during the plays.
"I think, 'oh man, what if I mess up?' But at the end (of the play), I'm like, 'oh that was a piece of cake,'" she said.
Savannah Smith, a 12-year-old going into the seventh grade, said that memorizing lines could be difficult. "But once you do it for the thousandth time, it gets easier," she added with a laugh.
Jolly Roger and the Pirate Queen, a play of love and swashbuckling pirates, of swords and treasure, with children bringing it to life, opens Thursday through Saturday, 7:30 to 8 p.m.
"Bring a picnic basket," Barbara said, and enjoy.
Paul Doellinger, grandfather of Henry and Olive, was there supporting his grandchildren, watching from a chair on the grass.
"Rob gives this a lot of time and energy," he said.