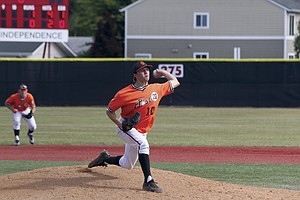 POLK COUNTY — Athletes often cite chemistry as a key to success. On a team where players have little to no experience playing with each other, developing chemistry can be difficult.
Not so for the DeMarini Dirtbags.
The Dirtbags, an American Legion baseball team, features a collection of players from Dallas, Central, West Salem and McMinnville high schools. Among them include Tucker Weaver and Tanner Earhart from Dallas and Peter Mendazona, Luis Amador, Luke McBeth and Humberto Alarcon from Central.
"Being part of a rivalry, you don't really think of those guys on the other team as people, more as players," Weaver said. "I know that sounds really cruel, but I think that's the best way I can describe it."
Once the summer season hits, those differences are put aside for a greater goal.
"Last year, I met Luis Amador and Pete Mendazona," Weaver said. "I got along with those guys and still do. They're great to be around. Becoming teammates and friends with them really changed the way I looked at our rivalry. … Coming into this year during school ball, I tried to be a little more open to guys on Central because I knew there was a good shot at more coming along."
During the American League season, each team has a collection of talented players.
Luckily for the Dirtbags, a common passion unites them.
"As long as you know baseball, you can get along with almost anyone," McBeth said. "When you have that common interest, it's pretty easy to have fun when you're surrounded by baseball players."
Playing as a team is essential when each squad features a deep, talented lineup.

"I come out every time I step on the field with the intention to dominate and control the game as best I can," Weaver said. "The hitters are better, so I have to be better at hitting my spots and being confident with each pitch. There's less room for mistakes. The competition is tougher, but so are we."
The Dirtbags are out to finish what they started in 2015, when the team advanced to the state semifinals.
The players may come from rival teams, but at least for a few months, these rivals stand together for a common goal.
"There's something mutual there, since while you represent your high school, you also represent Post 20. That's a great thing to be a part of," Weaver said. "We know how bad we want it after what happened last year. Coming up just short the way we did last summer is a great motivation tool. … We're a dangerous ball club this year, and I'm really excited for what we can accomplish. I'm hoping this year we can make history and leave a legacy for this team."