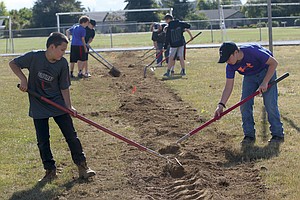 DALLAS — Jeff Hevener was ecstatic to be working on Saturday morning. Hevener, along with numerous volunteers, spent the weekend installing an irrigation system at the LaCreole Middle School football field.
That may not sound fun to many, but for Hevener, it was a moment three years in the making.

"It may sound weird to be so excited about an irrigation system, but I am pumped this is happening," he said.

—
Prior to the installation of the irrigation system, watering and caring for the football field was a laborious proposition.
"We would have to hook up these pipes and turn on the water," Hevener said. "Then, before games or practices we'd have to take apart the pipes and move them to the sidelines and then move them back after they were done on the field. We'd turn on the water and some pipes wouldn't be hooked up all the way and water would shoot out and we'd have to go fix it."
The process was taxing physically, and took time. It also led to the field's condition being uneven in spots.
"I had high school football players tell me that this field was always a joke to them," Hevener said.
That should no longer be the case.
Hevener has been involved with Dallas Pop Warner to try and get an irrigation system installed for the past three years.
In the summer of 2015, the group believed it was ready to install the irrigation system until plans had to be put on hold.
"Last year, we were ready to get started and at the last minute we found out that we couldn't due to additional approvals needed," he said. "At that point, it was too late to move forward with the project."
Dallas Pop Warner wouldn't be denied this year, Hevener said. They began holding regular discussions of the project in January to ensure every detail, from the time of year to all needed approvals, would be accounted for.
"This year, we had all of the people needed to complete the project on board from the beginning, and we all had the motivation to get this done," Hevener said. "Our motivation was contagious and there was no way we were going to come up short again."
Work on the project began in earnest on Thursday.
Volunteers showed up in full force, whether donating equipment or time to help shovel ditches, install sprinklers or refill ditches.
Dallas High School football players came out on Friday to help dig trenches. Middle school players have pitched in, and volunteers from Morrison Plumbing, Fall Creek Logging, the Hofrenbredl family and a number of other individuals pitched in, Hevener said.
"Everyone benefits, and it did not cost our school district any time or resources," Hevener said. "Our football players will have a better field for practice and games, and our community has a nice field to be proud of."
Mid-Valley Pop Warner covered the entire cost of the project, which was about $5,000, Hevener said. Dallas Pop Warner and volunteers will continue to maintain the field.
"The general feeling is relief that we have it done," Hevener said. "I was very proud. I love our community, and when you see people giving back, it's a great feeling."