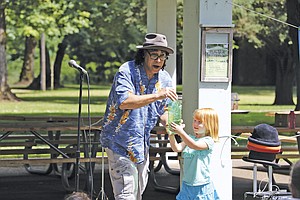 Fairgrounds host beautification day
The Polk County Ford Institute Leadership Cohort, in conjunction with the Polk County Fairgrounds Board, will host a Polk County Fairgrounds Beautification Day on Saturday. Residents are invited to volunteer from 9 a.m. to 1 p.m. to complete projects around the fairgrounds.
Projects include repairing, repainting and building sheep and goat panels, constructing and painting small animal trays, and other projects to prepare for the Polk County Fair, Aug. 11-13.
All ages and skill levels are welcome.
The day will conclude with a celebration of volunteer efforts.
For more information or to register to volunteer: http://www.polkswcd.com/polk-county-fair-beautification-day.html .
For more information: Karin Stutzman, manager@polkswcd.com ; 503-623-9680 ext. 110.
Smith Fine Arts auction and dinner
The Smith Fine Arts Series will host its 16th annual mid-summer auction and dinner July 31 at 4:30 p.m. The event will be held at Werner University Center, 345 Monmouth Ave. N., Monmouth. Live music, dinner, raffles and silent and oral auctions will be held.
Cost is $35 or $250 for a table of eight. RSVP by Friday to 503-838-8333 or fineart@wou.edu.
For more information: www.smithfinearts.com.
Finegan retirement celebration July 27
Tom Finegan, district conservationist in Dallas, will retire on July 29 after 25 years. The USDA Service Center, 580 Main St., Suite A, Dallas, will hold a retirement celebration on July 27 from noon to 1 p.m.
The potluck will feature barbecued beef, calico beans and salad. Attendees are encouraged to bring a dish, though not required. An open house will follow from 1 to 4 p.m.
For more information: Sue Reams, 503-837-3693.
Library features Joshua Simonson
The Dallas Public Library's featured artist through the end of July is Joshua Simonson.
Simonson became a painter in 2006. He is self-taught, and not only creates art, but builds the canvases himself.
Simonson's art will be on display at the library, 950 Main St., Dallas, through the end of July.
For more information: 503-623-2633.
Three Legged Dog hosts dinner, beer
The Three Legged Dog, 250 Main St., Independence, will host a four-course dinner on Sunday. The dinner will feature seasonal ingredients and will be paired with beers from Salem Ale Works.
Tickets cost $60 and can be pre-purchased at Three Legged Dog or online at www.squareup.com/store/the-three-legged-dog-public-house/.
For more information: Jake Bonham, 503-990-8486.
EBC hosts talk on leukemia treatment
Evangelical Bible Church, 1175 SE Howe St., Dallas will host a talk about a new treatment for leukemia from 1 to 3 p.m. Shirley Quiring O'Brien will share her story about a new clinical trial that is successfully bringing her back to health.
Her and her husband Jim will also sing and accompany themselves on their accordions, performing a wide variety of music.
There is no cost to attend.
For more information: Sherri Fobert, 503-623-8238.
Folklife Festival T-shirts on sale
The Polk County Folklife Festival has T-shirts available for sale online at https://www.booster.com/polkcountyfolklife.
Cost is $20; both unisex and women's fit V-neck shirts are available. Money raised from the sale goes toward the operational costs of the nonprofit festival, which will occur on Oct. 29. T-shirts will be available through Aug. 3. Donations are also accepted online.
For more information: Sally, salclark@hotmail.com.
Garden Club to meet Monday
The Dallas Garden Club will hold its monthly meeting Monday at 6:30 p.m. at Evangelical Bible Church, 1175 SE Howe St., Dallas.
Meetings are free and open to the public.
For more information: Mike Stewart, RosesRemebered@aol.com.
Willamina to hold city garage sale
Willamina will hold a city wide garage sale on Friday and Saturday from 9 a.m. to 5 p.m.
Maps will be available at Coyote Joe's, and more than 25 residences will participate.
The Willamina Swap Meet and Flea Market will also take place Saturday from 8 a.m. to 4 p.m. Cost is $5, kids 8 and younger are free.
Money raised from the market will go toward Willamina Fireworks. Located at the Mud Drags Area, signs will be posted to direct the public.
For more information: Geneva, 503-435-9180.